21 May 2012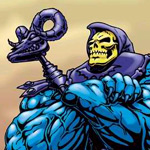 Skeletor Masters of the Universe Illustration
Here's a fan-art illustration I created quite some time ago of one of my favorite characters in the He-man cartoon I watched as a child. Do you remember Skeletor from He-man and the Masters of the Universe? I loved watching the cartoon and collecting the Mattel He-man figures.
I was fortunate enough to have a couple different skeletor figures. I had the original figure and the battle-armored Skeletor that you could flick in the chest and it would change to take damage.
As for the cartoon I liked watching He-man but I really could't stand his hair so I really haven't attempted to draw him. If I ever did I would probably change his hair up a bit. Perhaps I would use the more the modern He-man hair style found in the new cartoon. The skulls and the monsters always appealed to me more as I had a father who tended to draw these himself. He also had many tattoos of skulls and when I was a kid I would emulate his tattoo drawing style so Skeletor was definitely the way to go for me.
When I created the Skeletor I started by illustrating him in pen and ink on Bristol board and I scanned the illustration into Adobe Photoshop for some color.
I've been asked a few times about his feet so I thought I would note the modern Skeletor images and figures seem to have more human-like feet with five toes. My figures had boots with three toes so I am not sure if Skeletor has just evolved since the old-days or if it is simply artistic license but I prefered to illustrate his feet after the old style.
Comments