19 Oct 2012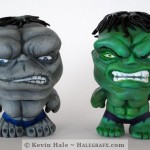 Green and Gray Hulk Color Blanks Figures
The Incredible Hulk is my favorite comic character so creating green and gray hulk Color Blanks was inevitable. These two blanks don't look much like what I started with but they sure provided a nice foundation and made the sculpting a lot quicker!
While the story of the green and gray hulks has evolved into different incarnations of the same entity, they are often depicted quite differently. I wanted capture some of these differences in my little hulk Color Blanks figures. Both of these hulk Color Blanks were customized using vinyl figures, polymer clay, acrylic paint and Color Blanks markers.
If you want to see some tips on vinyl figure customization, check out some of my other Color Blanks posts below.
Comments