02 May 2012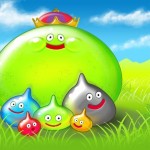 Dragon Warrior Slimes Wallpapers
I created this illustration as an homage to one of the most prolific monsters/characters in the old RPG's I used to play as a kid; Dragon Warrior slimes… Well to be honest I actually still play these old video games  from time to time. The main difference is now,  the opportunities I have to play these great old games has become few and far between.
These  Dragon Warrior/Dragon Quest slimes seem to be in all the old games as one of the easiest characters you can fight; however they did make harder ones within the species that you could run into in various places. I recall finding these characters and variations of them in the Final Fantasy series and Breath of Fire games as well.
I drew this like a family portrait, showing the various slimes that you might find in the Dragon Warrior series. You have your typical blue, green, red and the metal slimes. The gold slimes were great for increasing your money and/or experience.
When making the slimes I first designed their general shape and facial characteristics in Adobe Illustrator. I then added in environmental effects, highlights and touchups in Photoshop. The dragon warrior slimes illustration is available as a wallpaper for download.  Check out the sample artwork and download links below!
Please do not post the wallpaper on another site without permission or a link back to my site. Thank you!
 
Dragon Warrior Slime 1600 x 1200 Wallpaper set
  Dragon Warrior Slime 1680 x 1050 Wallpaper
  Dragon Warrior Slime Ipad 2 Wallpaper set
  Dragon Warrior Slime Ipad 3 Wallpaper set
No Responses