06 Mar 2018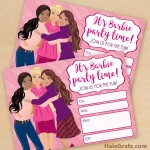 FREE Printable Barbie Birthday Party Invitation
I've had a lot of requests for Barbie printables and I'm finally getting around to posting them. This is a free printable Barbie birthday invitation. This invitation comes in two file formats to give you some easy-to-print options for your Barbie party theme. This invitation has 3 Barbie girls hugging and celebrating. This invitation says "It's Barbie Party Time! Join us for the fun!".
JPEG Barbie Printable Invitation
This free printable Barbie jpeg invitation is easy to print. This Great if you want to hand-write your details in the boxes. A great way to print and personalize for your Barbie party guests. Also great if you want to personalize your invitations for each guest. This Barbie themed invitation measures 5 x 7 inches.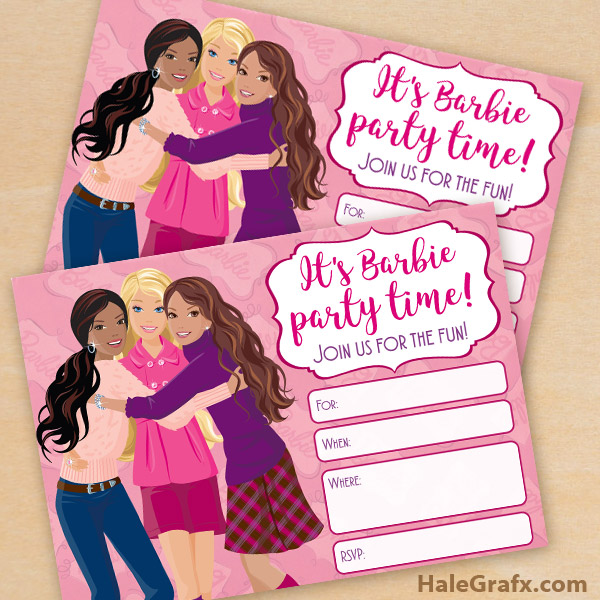 PDF Barbie Printable Invitation – Easy Type and Print Option!
Much like JPEG game invitation, it's easy to simply print your free Barbie invitation and then fill in your party details as you see fit.
If you need a quick option, there is is a faster and easier way to get all your invitations filled out. Just use the easy type and print option in the PDF. Each of the text boxes are editable so you can put in your own party details. The text fields include: who the party is for, when it is, where it is and RSVP information. The free Barbie PDF printable will print two invitations to a sheet at 5 x 7 inches. You can download your free printable Barbie invitation below! Have an awesome party!
File Size: 4.36 MB
Format: PDF & JPEG
What paper is best for the Barbie invitations?
For an authentic Barbie invitation, I recommend using a white cardstock paper. Cardstock will definitely give your invites a sturdy feel. To save more money, you can try a multipurpose printer paper. It is easy to bend and quick to trim. I have used both and both fit in envelopes nicely. I mostly use multipurpose paper for things since I buy it in bulk.
What can I use to cut my Barbie invitations?
Using a good pair of scissors work just fine, but with printing and cutting your free invitations and lots of my other free Barbie printables a paper cutter comes in handy! It will make quick work of all those straight cuts. It is also helpful because you can cut more than one piece of paper at a time. I have also cut them with a ruler and X-acto knife. It gives you perfect edges but takes a very long time when you have a lot of invites. We have a couple different paper cutters for all our free printables :)
Don't forget Barbie party supplies!
To complete your Barbie party, check out these fun Barbie gifts!  Also grab some plates, cups, napkins, party favors etc from the dollar store in pinks, purples and any other colors that help inspire your Barbie  party theme.