29 Nov 2016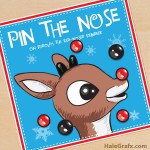 FREE Printable Christmas Pin the Nose on Rudolph
It's time to play some reindeer games. This FREE Christmas Rudolph printable has a fun Christmas or reindeer theme and shows a large happy Rudolph the Red-nosed Reindeer head waiting for his nose. There are two types of noses to choose from. There is Rudolph's famous red nose and the black disguise nose that he wore for a short time. This fun party printable comes with two images. Each image is 12 x 12 inches in PDF format and prints in high resolution. You get:
– a large image of Rudolph the Red-Nosed Reindeer's head without his nose
– an image containing a set Rudolph's noses both his real red nose and larger fake black nose.
Great for digital scrapbooking, Christmas party decorations or your next Christmas themed party game.
Recommendations for assembling your Rudolph Pin the nose printable

First download your free Christmas printable below. Then glue Christmas Rudolph the red-nosed reindeer to a large foam board to create a larger game area. Then cutout the red and black noses and stick a piece of tape to the back of each one. You can resize this image to print on 8.5 x 11 if you prefer by using the "scale to fit" or "fit to page" option on your printer. Make sure to take a look in your print settings. Now you can blind fold your party goers and have some reindeer games with Rudolph! Download the fun below!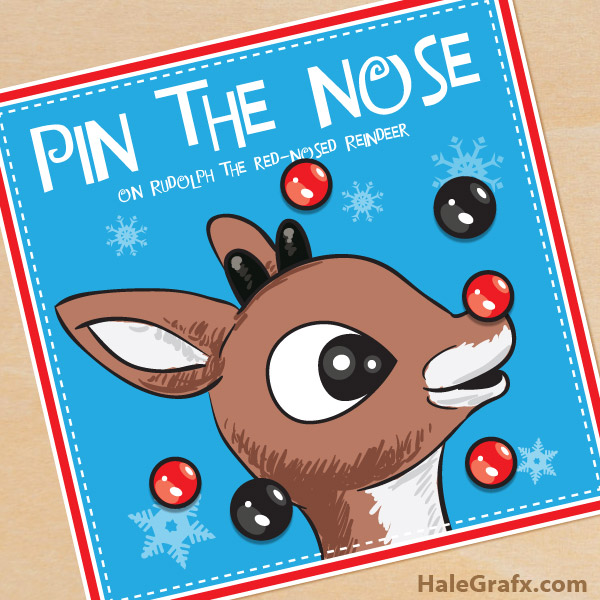 File Size: 135 KB
Format: PDF
More Great Rudolph Items!
Comments