26 Nov 2016
Home
»
Printables
» FREE Printable Christmas Shopkins Gift Card Holder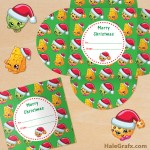 FREE Printable Christmas Shopkins Gift Card Holder
Posted in Printables By Kevin Hale On November 26, 2016

Can't decide on a particular toy or don't know which Shopkins to get your toy fan? Here is a fun and simple solution! This is a free printable Christmas Shopkins gift card holder. This fun printable gift card holder prints from a pdf file. There are 3 different Christmas themed Shopkins repeated all over the card holder in a pattern. There is Kooky Cookie, Apple Blossom and Cheezy all wearing santa hats. Kooky cookie even has little cookie at the end of her hat. In a label in the middle, the holder says "Merry Christmas" and has a place to put "to" and "from".
These gift card holders are easy to print and fold. No glue or tape needed. Also included in the download is an assembly guide if you are not quite sure how these cut and fold. This is optimized to print on 8.5 x 11 inch paper. If you have access to a large scale printer you can enlarge it and print it for bigger gifts such as a calendar or photos. It won't get blurry when resized! Download your free printable Christmas Shopkins gift card holder below!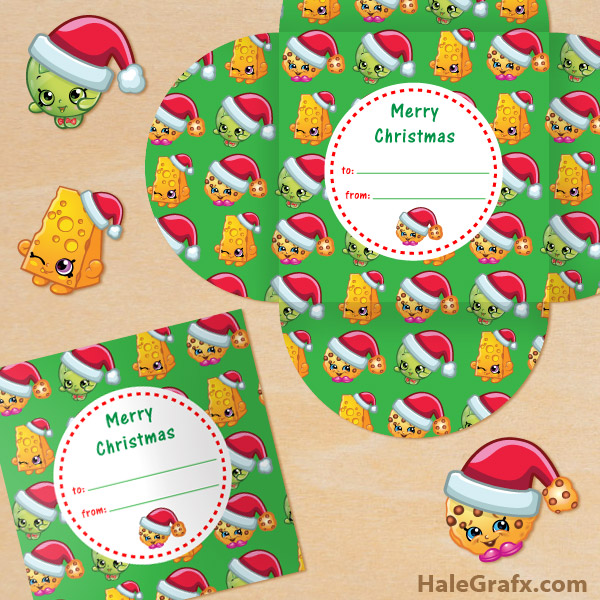 File Size: 1.70 MB
Format: PDF
If you need paper for Shopkins gift card holders…
For a sturdy gift card holders, I recommend using a white cardstock paper. Using a cardstock gives you that more durable holder. You can also use standard printer paper and save money on your Shopkins printable printing when you buy your paper in bulk. You can get regular printer paper here.
Check out all the great Shopkins gift ideas!
Make holiday shopping easy! Take a look at all the Shopkins toys and gifts here! There are so many great sets available including some megapacks and Shoppies.