19 Feb 2021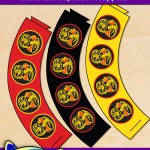 FREE Printable Cobra Kai Cupcake Wrappers
Get ready for your next party or celebration with these free printable Cobra Kai cupcake wrappers. Decorate your cupcakes and muffins with them for a party, birthday or for when you Binge watch Cobra Kai on Netflix! Pair them up with my free printable Cobra Kai cupcake toppers for perfectly decorated Cobra Kai party cupcakes!  Kids and adult fans will love these. They're a hit in our household! Everyone here loves watching Cobra Kai along with the original Karate Kid movies. By the way, don't forget there are other Cobra Kai printables that I've created for you to use. Make sure to check them out!
Included in this Cobra Kai printable are 3 different Cobra Kai themed wrappers. All 3 designs print to a single sheet of paper. The designs include red, black and yellow wrappers with the Cobra Kai snake logo.
These free cupcake wrappers are designed to be cut-out with scissors and have been setup to print on 8.5 x 11 inch standard letter-sized paper. They're easy to secure with glue or tape. Download your free printable Cobra Kai cupcake wrappers below.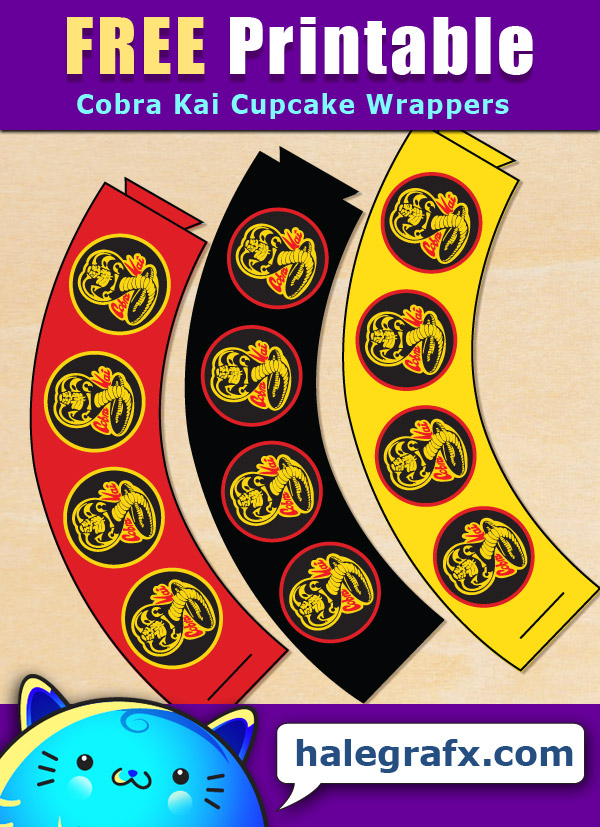 File Size: 307 KB
Format: PDF
What's the best paper for Cobra Kai cupcake Wrappers?
You probably already have Multipurpose printer paper if you have a printer and that's what I use! Using standard paper saves me money. It's also easy to fold and secure with tape. IT's the easiest paper to cut as well. If you plan on using a lot of printables for many parties in the future, think about investing in a laser printer. You'll save big on ink costs! Laser printers use toner cartridges which old colored powder. I buy refurbished Toner cartridges and not only does it cost me less than ink cartridges but I can print 1000's more pages per cartridge set. No worries about printing full color pages here :)  If you want your Cobra Kai cupcake wrappers to be a little sturdier, try using a cardstock paper.  Keep in mind that they will be stiffer and might take more tape to secure.
Don't forget Cobra Kai Party Gifts!
To compliment your Cobra Kai party, check out these fun Cobra Kai gift ideas! After grabbing some of these items go to your local dollar store and get some red, yellow and black matching plates, streamers, napkins, cups and utensils.