21 Apr 2015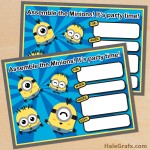 FREE Printable Cute Kawaii Minion Birthday Invitation
Are you looking for a cute minion invitation for your child's upcoming birthday party? This FREE printable kawaii minion birthday invitation has four cartoon, cute little minions and comes in two easy-to-use formats for your convenience. You can choose from either a JPEG for PDF option for your printing needs.
JPEG Kawaii Minion Printable Invitation
Using the free JPEG minion invitation you can either quickly print and fill in your details with a pen or marker or you can open your favorite image editing software, add in your party info and then send it to print. These cute Despicable Me kawaii themed invitations measure 5 x7 inches.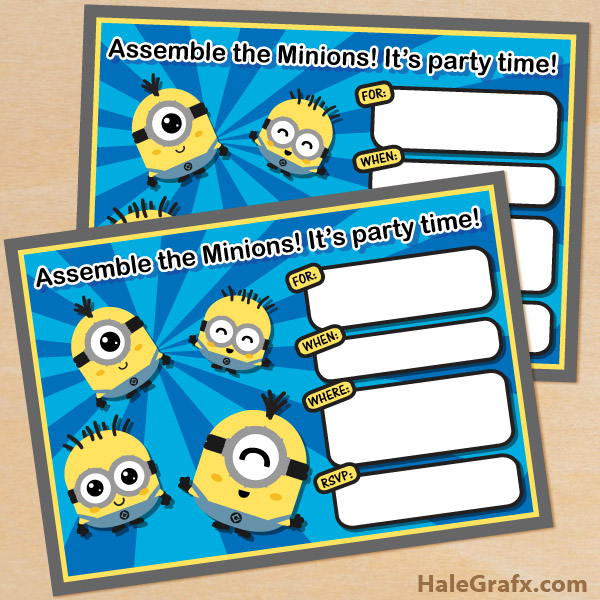 PDF Kawaii Minion Printable Invitation
The PDF kawaii minion printable can also be directly printed as-is and then you could fill out your details using a traditional method such as pen or marker. If you are not looking to do a bunch of extra writing, the PDF also has the convenient option of allowing you to type your details directly into it and then sending to print (see the image below). The free minion PDF printable will print two invitations to a sheet at 5 x 7 inches. You can download your free cute kawaii minion birthday invitations below!
File Size: 1.1 MB
Format: PDF & JPEG
What paper is best for the kawaii minion invitations?
For a sturdy minion invitation I recommend using a white cardstock paper. Using a cardstock gives you that more authentic feel. For a more inexpensive option you can try a multipurpose printer paper. It is easy to bend and quick to trim. I have used both and both fit in envelopes nicely.
What can I use to cut my kawaii minion invitations?
Scissors work just fine but with printing and cutting your free minion invitations and lots of my other free despicable me printables a paper cutter comes in handy! It will make quick work of all those straight cuts. It is also helpful because you can cut more than one piece of paper at a time. We have a couple different paper cutters for all our free printables :)
Don't forget Minions party supplies!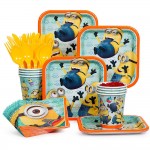 To complete your Despicable Me party, check out these fun Minion party supplies! Plates, cups, napkins, etc., decorated with fun minions designs will help tie together your party theme!
Want more Free Minion Printables?
– Here is another great free printable minion invitation
– Or try this free printable minion ticket invitation
Comments