14 Oct 2019

My daughter requested Ufufy themed decorations for her birthday. So I just finished creating this FREE printable Ufufy banner pack. Perfect for her party and maybe perfect for your kids too!   All letters in the alphabet are included. Make a birthday banner; add a name or another creative phrase. Use this to make your own completely personalized Ufufy banner. These also work great just to make a banner for your kid's room. Don't forget to check out the rest of my free Ufufy and Disney printables.
The spacer sheets include different colored cute, kawaii Disney Ufufys. By default this free printable prints banner letters optimized for 8.5 x 11 single page PDFs, the spacer sheet prints from its own PDF file as well.  So along with the letters you can print spacers.
Using the letters to spell "Happy Birthday", printed full size and connected on a string, the banner is around 10 feet wide. Because of its size it works great as a prominent party decoration.  You can optionally shrink it in your print settings to save on paper and/or ink. You can download your free printable Ufufy alphabet banner pack below.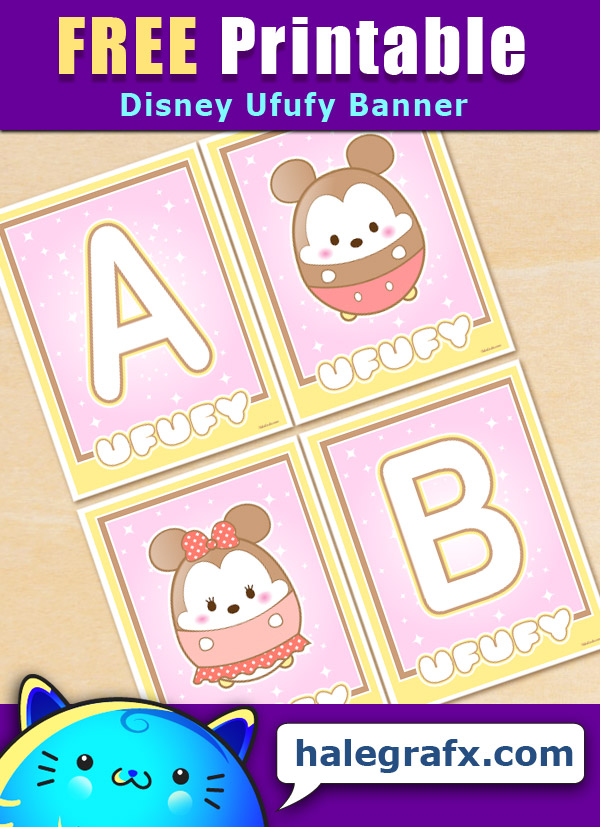 File Size: 1.25 MB
Format: PDF
What paper is best for an Ufufy Banner?
I would just use standard, 8.5 x 11 inch multipurpose printer paper. It's quick and easy to cut. For these big prints a great way to save on printing costs is to invest in a laser printer.  Great for scrapbookers, homeschoolers, and party professionals. My family has been using one for years and it has been very valuable in our party preparations. I also buy refurbished printer cartridges for my printer and save a bundle.
Check out all the great Ufufy gift ideas!
Make birthday or holiday shopping a cinch! There are lots of Ufufy toys and gifts here! If you have a dollar tree/store nearby, keep your budget intact; head there to get some bright colored plates, napkins, streamers and utensils that match your party theme.