10 Mar 2020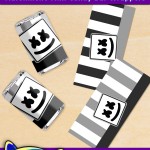 FREE Printable DJ Marshmello Mini Candy Bar Wrappers
If you are looking or fun ways to enhance your Marshmello, Fortnite or Halloween party, check out these free Printable Marshmello mini candy bar wrappers. They work great on those mini trick-or-treat sized chocolate bars.  At your DJ Mello party use these to decorate mini candy bars, pop them into party favor bags, or have them ready to serve in a candy bowl for your Halloween visitors. You could even put them into a pinata.
This printable has DJ Marshmello's iconic mask with different Striped and solid backgrounds. This free Fortnite download prints 12 mini candy bar wrappers per sheet in PDF format.
This free Marshmello printable is optimized for printing on 8.5 x 11 inch, standard letter sized paper. You could also easily print these on A4 paper size as well. They're really easy to cut with scissors or an x-acto knife and ruler. I'd probably go with scissors if you are not too worried about perfectly straight cuts. These Marshmello candy bar wrappers are perfect size for Hershey's miniatures and other treat-sized candy. You can download your free printable Marshmello mini candy bar wrappers below. Don't forget to check out the rest of my free Marshmello & Fortnite printables.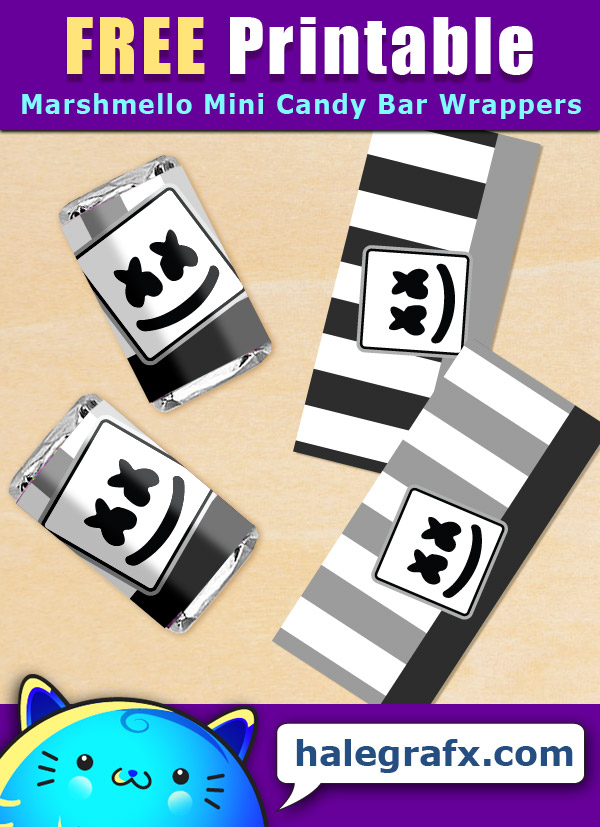 File Size: 176 KB
Format: PDF
What paper is best for my Marshmello candy bar wrappers?
I'd simply use multipurpose printer paper as opposed to cardstock paper. It is easy to cut and wrap around little bars AND you probably already have it in your home if you have a printer. Then just tape your Marshmello candy bar wrappers around with some scotch tape and you are all set!
You can save on ink long term if you invest in a laser printer as well. I bought one years ago and love it. I've saved so much on my printing over time. I even get my laser printer toner cartridges cheaper than buying ink for an inkjet printer.
Check out my Fortnite Speed Draw of the Prisoner
Don't forget Marshmello toys and gifts!
To complete your Marshmello party, check out this fun Marshmello gifts, and merch! Also grab plates, cups, napkins, party favors etc., colored in black, white and gray at the dollar store to save more money!