30 Jun 2019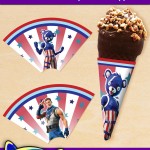 FREE Printable Fortnite 4th of July Ice Cream Cone Wrappers
If you're addicted to Fortnite and you still want to show your patriotism on Independence day, here are free printable Fortnite 4th of July ice cream cone wrappers.
This ice cream cone wrappers printable includes 1 PDF file to print two ice cream cone wrappers per sheet. Perfect to use on Drumstick ice cream cones.
These wrappers are themed with stars and stripes and long with 4th of july themed Fortnite skins. These include the goofy bear, Fireworks Team Leader and Star Spangled Trooper. These free Fortnite 4th of July wrappers are designed for normal sized sugar cones.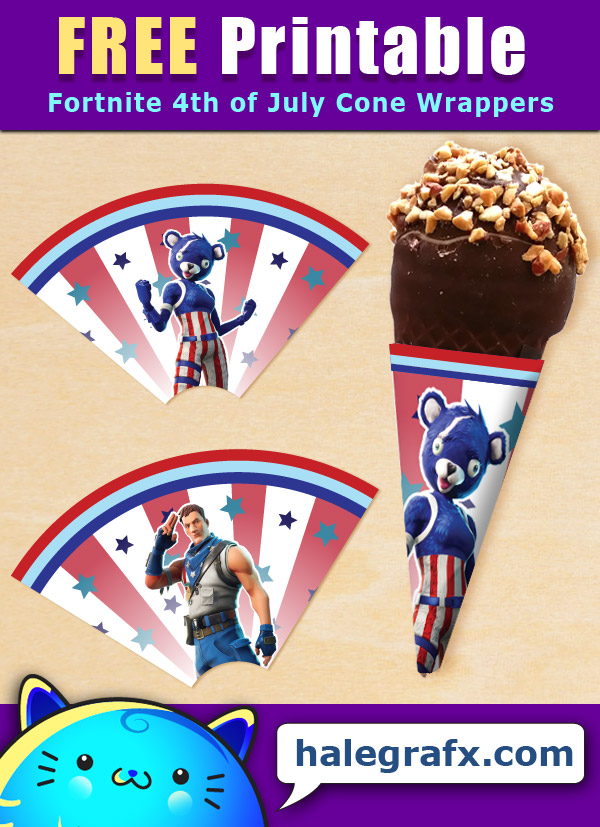 Directions for Assembly
1. Print on 8.5 x 11 paper
2. Cut out Ice cream cone wrappers
3a. (option 1) Add double sided tape to one end of unprinted side and wrap cone
3b. (option 2) Simply wrap cone with your Fortnite wrapper and apply a piece of normal tape to the outside.
You can download your free Fortnite 4th of July ice cream cone wrappers set below.
File Size: 1.61 MB
Format: PDF
What's the best paper for 4th of July cone wrappers?
Using multipurpose printer paper is the most efficient way to go. Regular paper makes cutting sheets easy. You can save on ink long term if you invest in a laser printer as well. Long term we have saved a lot on printing with our Laser printer.
Check out my Fortnite Speed Draw of the Prisoner
Don't forget 4th of July decorations and gifts!
To complement your 4th of July celebration, check out these fun 4th of July decorations! After grabbing some of these items go to the dollar store and grab red, white and blue plates, streamers and utensils.