15 Oct 2018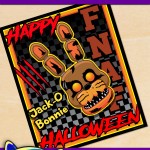 FREE Printable Halloween Five nights at freddy's Bonnie Poster
Five Nights at Freddy's works great as a Halloween theme. Here is a free printable Halloween themed FNAF poster with Bonnie on it. This isn't the normal version of Bonnie, this is Jack-O-Bonnie, the Halloween themed rabbit animatronic. Use it for decorated on Halloween, wallpapers, scrapbooking, or a Five Nights at Freddy's Halloween Party!
This Halloween poster has the words "Happy Halloween" in a scary font, Jack-o-Bonnie's head, the letters FNAF and checkered pattern like the floors of Fazbear Pizza. You can see Jack-O-Bonnie in the game FNAF World.
This FNAF poster printable is approximately 8 x 10.5 inches and optimized to print on letter sized paper, however this PDF was created from a vector source and could be printed much larger such as poster size if you are lucky enough to have access to a larger printer. Great for a FNAF fan, Halloween lover or getting in touch with your inner animatronic this Halloween. Download your free printable Halloween Five Nights at Freddy's Bonnie themed poster below!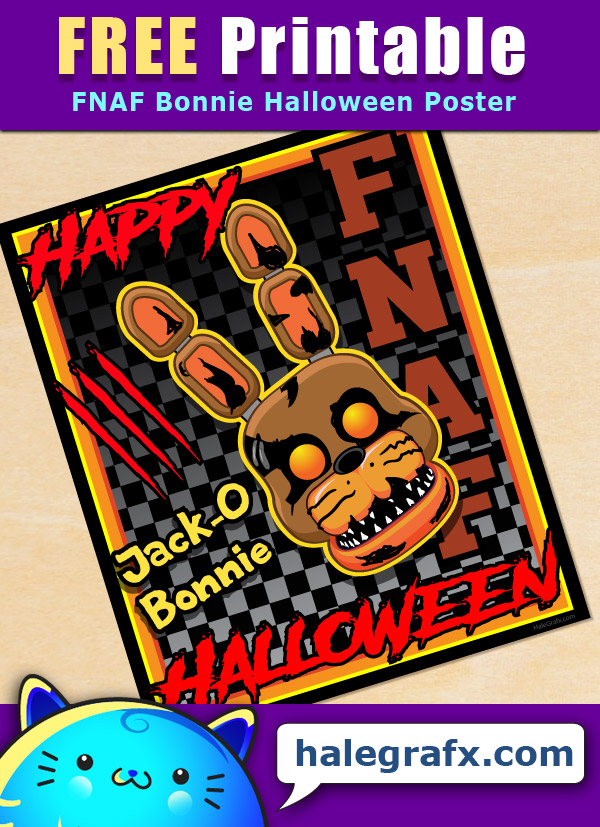 File Size: 322 KB
Format: PDF
Check out my other Five Nights at Freddy's printables here!
Watch Me Draw Freddy Fazbear from FNAF!
Cool Ideas for a FNAF Halloween