22 Oct 2017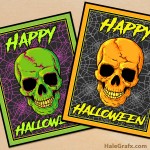 FREE Printable Halloween Skull Posters
It's time to decorate for Halloween. These are some FREE printable Halloween Skull posters for your Halloween party or birthday. There are two different Halloween skull posters that all print on standard 8.5 x 11 letter sized paper from pdf files.
The included posters have green and orange skulls. In the background there are spider webs and the posters say "Happy Halloween" in a horror font. My girls like putting these all over the walls around Halloween. They also grab a bunch of my other free Halloween printables and decorate the house! Needless to say, my walls are papered with all kinds of free printables during this season. If you like skulls and you need some creepy decorations, these posters work great for a variety of get togethers.  You can download your free printable Halloween Skull posters below!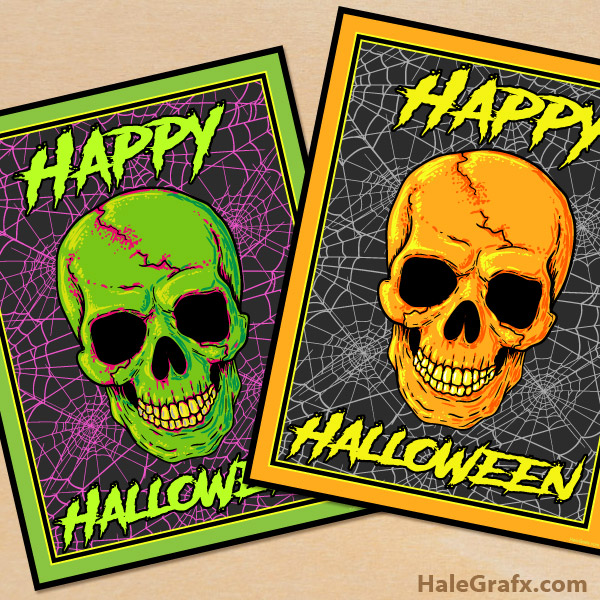 File Size: 1.17 MB
Format: PDF
What paper is best for my Halloween Posters!
Making Halloween Posters is quick and easy, multipurpose printer paper works great! It is easy to print and quick to trim. Your Halloween party will have fun, scary decorations in no time.
You can save on ink long term if you invest in a laser printer as well. A really great idea if you plan on doing a lot of parties with printables for years to come. Also great for scrapbookers and homeschoolers. I bought one a few years ago and love it.
Don't forget Halloween toys and gifts!
To complement your Halloween party, check out these fun Halloween toys and gifts! After grabbing some of these items.