25 Oct 2019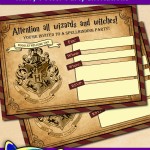 Free Printable Harry Potter Party Invitations
It's time for a party with wizards and witches! Spread the word about your party with this free printable Harry Potter party invitation. This free invite is designed like old weathered paper, it has the Harry Potter font and the crest of Hogwarts.  The invitation says "Attention all wizards and witches. You're invited to a spellbinding party". It also says "Muggles Welcome" so your not magic friends don't feel left out.
This free Harry Potter invite is provided in both PDF and JPEG formats to give you flexible options for spreading the word to family, friends and fellow Harry Potter fans.
JPEG Harry Potter Printable Invitation
The JPEG option is simple. Just print it, and write in your party details. It's  fun and easy way to personalize your invites for family and friends. Or just show off your awesome writing skills. Grab pens or colored markers to write in the details in fun and creative ways! This Harry Potter themed invitation measures 5 x 7 inches.
PDF Harry Potter Printable Invitation – Easy Type and Print Option!
Much like JPEG invitation, you can simply print your free Harry Potter invitation and then fill in your info with a pen or marker. You can save time though and just type the details in using the PDF's form fields. The fields provided include name of birthday boy or gil, time of party, party location and RSVP info. This free pdf version will print two invitations to a sheet at 5 x 7 inches. You can download your free Printable Harry Potter party invitation below!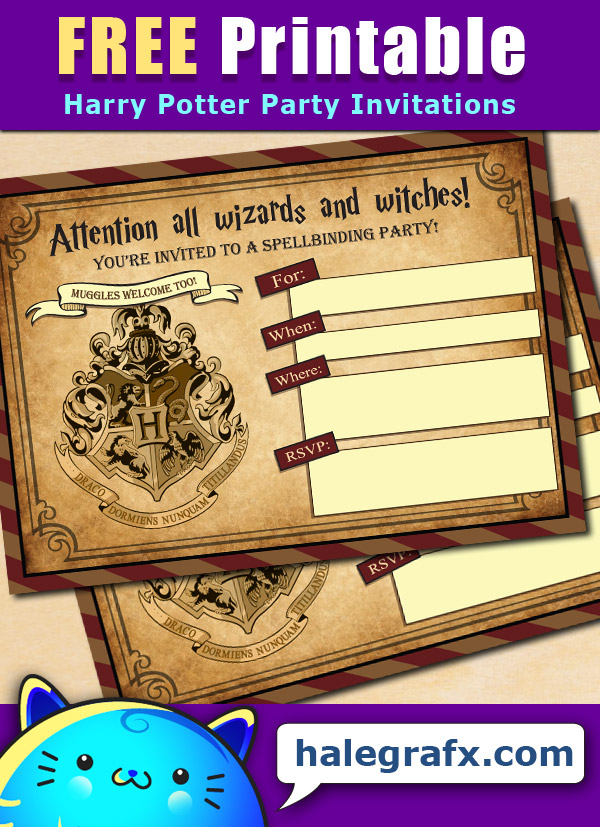 File Size: 4.19 MB
Format: PDF & JPEG
What paper is best for Harry Potter invitations?
Invitations and cards look and feel the most authentic when you print on white cardstock paper. Cardstock will make your invitations feel like they came from a store. If that's out of the budget then I would go with the multipurpose printer paper. It is easy to use and cut. I have used both regular and cardstock paper and both fit in envelopes nicely.
What can I use to cut my Harry Potter invitations?
Scissors work fine. With lots of free printables to cut, a paper cutter could come in handy though! You'll have them all cut in a few minutes. With a good paper cutter you can cut multiple at a time. I have also cut them with a ruler and X-acto knife. It gives you perfect edges but takes a very long time when you have a lot of invites. I have a couple different paper cutters for all my free printables :)
Don't forget Harry Potter party supplies!
To complete your Harry Potter party, check out these fun Harry Potter themed gifts!  Also grab some plates, cups, napkins, party favors etc. in colors to match your party printables and decorations at the dollar store!