03 Jul 2016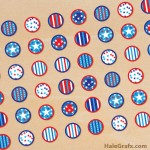 FREE Printable July 4th Hershey's Kisses Stickers
Happy 4th of July! Do you need some patriotic stickers for your party treats? Put these little independence day stickers on the bottom Hershey kisses, mini Reese's Pieces Peanut Butter cups or other candy and share at your July 4th celebration. These little stickers have red, white and blue stars and stripes.
Have fun patriotic treats to snack on and share while you watch the fireworks and barbeque with your family and friends. Also check out my other free 4th of July printables.
This free 4th of July printable comes in PDF format and prints 54 small 4th of July themed stickers per sheet. Here are some simple instructions to print and create your 4th of July Hershey's Kisses Stickers.
1) Print on 8.5×11 sticker paper such as Avery #8165. You can find the sticker paper here.
2) Punch out circles with 3/4 inch circle craft punch. Available online here.
3) Stick to the bottom of Hershey's Kisses or mini Reese's Peanut Butter Cups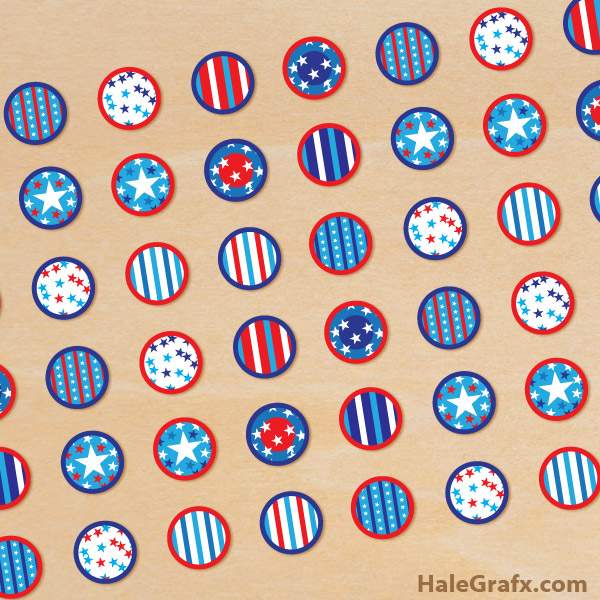 Also great for scrapbooking, 4th of July envelope seals and sticker giveaways. You can download your free printable 4th of July Hershey's Kisses stickers below.
File Size: 257 kb
Format: PDF
Don't forget 4th of July party supplies!
To complete your Independence Day party, check out these fun 4th of July party supplies! Plates, cups, napkins, party favors etc., decorated with Stars, stripes, red, white and blue will help tie together your party theme!
Comments