05 Mar 2014
Home
»
Printables
» FREE Printable LEGO Building Block Alphabet Banner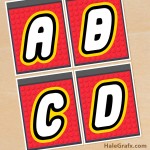 FREE Printable LEGO Building Block Alphabet Banner
Posted in Printables By Kevin Hale On March 5, 2014

Are you looking for a custom LEGO banner for your next party? Or perhaps some fun alphabet letters for the classroom. This free printable LEGO Banner pack has all the letters in the alphabet in a LEGO style font. Simply print the letters you want to create your own custom party banner. You could also download my other LEGO Birthday Banner and then use this pack to add a name to the end.
The Background of the banner looks like LEGO building panels in red. Each letter prints from a single PDF file and This free banner also includes instructions on how to assemble for your party. When this banner is put together on string it will make a great decoration for your LEGO party. You can download your free LEGO Alphabet banner below.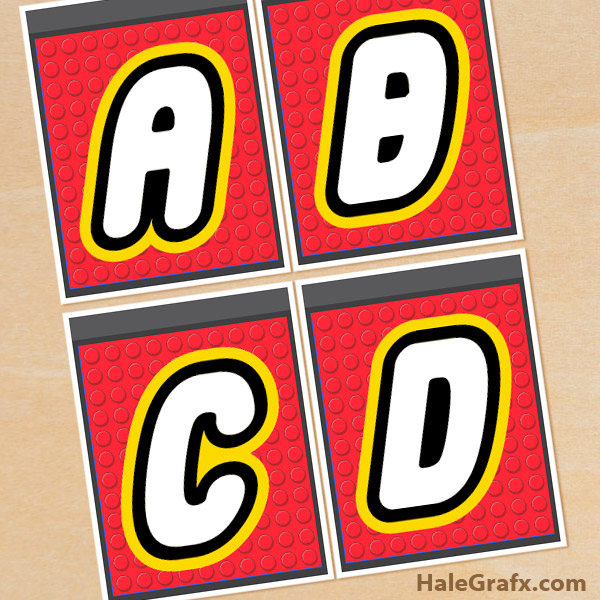 File Size: 2.98 MB
Format: PDF
What paper is best for a LEGO Banner?
Banners us a lot of paper. Keep it simple and use multipurpose printer paper. It is easy to print and quick to trim. You can save on ink long term if you invest in a laser printer as well. A really great idea if you plan on doing a lot of parties with printables for years to come. Also great for scrapbookers and homeschoolers. I bought one a few years ago and love it.
You may notice that your banner will curl a bit with the thinner paper. If you want to prevent this, try using a cardstock paper.
Don't forget LEGO party supplies!
Celebrate those master builders at your LEGO party, check out these fun LEGO party supplies! Plates, cups, napkins, party favors etc., decorated with LEGO bricks, minifigures and parts that will help tie together your party theme!
Comments