08 Oct 2014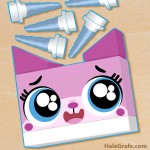 FREE Printable LEGO Movie Pin the Horn on Unikitty
Pin the horn on Unikitty from The LEGO Movie at your next LEGO themed Birthday party! This free LEGO pin the horn printable comes with two images. Each image is 8.5 x 11 inches in PDF format and prints in high resolution. You get:
– 1 large image of Unikitty's head with horns
– 1 extra sheet of horns
Great for digital scrapbooking, LEGO party decorations or your next LEGO themed party game.
Recommendations
A good technique is to cut out and glue the LEGO Unikitty to a piece of foam board to provide a larger game area. Then cutout your LEGO Unikitty horns and stick a piece of tape to the back of each one. Now you can blind fold your party goers and let them attempt pin the horn on Unikitty. You can download your free LEGO pin the horn below!
File Size: 230 KB
Format: PDF