10 Oct 2014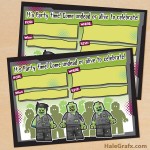 FREE Printable LEGO Zombie Birthday Invitation Set
The LEGO zombies are coming to eat your Minifigures. This free printable LEGO Zombie invitation set has a horde of undead minifigures heading toward you like they are from the Walking Dead. These invitations say "It's party time! Come undead or alive to celebrate!" Choose from two file formats to print and send out. Great for birthdays and even Halloween parties!
JPEG LEGO Zombie Printable Invitation Set

With the free jpeg LEGO zombie invitations just print out the invites and fill out your party info with a pen or marker . If you have graphic editing software such a gimp or Photoshop, another option is edit this jpeg of the undead and add in your party info and then send it to print. Gimp is free by the way! If you have Microsoft Point or Word you could insert these invitations in the background and add in text boxes with your info, and print them that way too! These LEGO themed invitation measures 5 x 7 inches.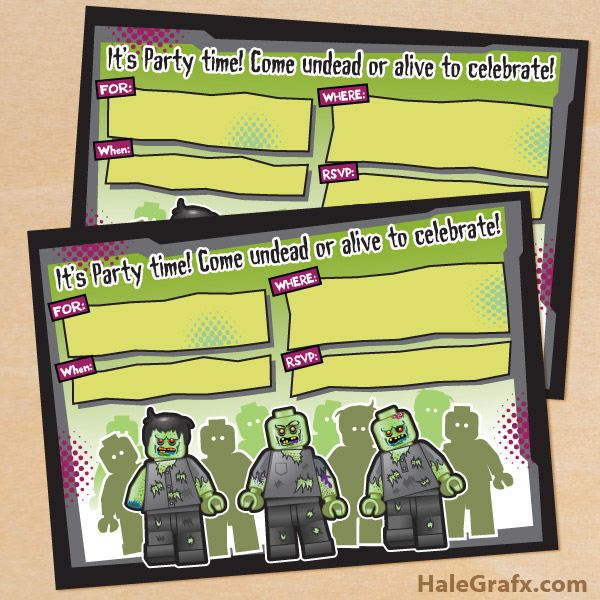 PDF LEGO Zombie Printable Invitation – Easy Type and Print Option!

Do you have a bunch of LEGO fans you need to send out your zombie invites to and want to get these invitations done quick? Typing them goes a lot faster!
The PDF version also has the more convenient option of allowing you to type your details directly into it and then sending to print. The free LEGO zombie PDF printable will print two invitations to a sheet at 5 x 7 inches. You can download your free LEGO Zombie birthday invitation set below!
File Size: 1.47 MB
Format: PDF & JPEG