01 Jun 2016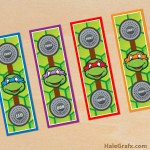 FREE Printable Ninja Turtles Bookmarks
The Teenage mutant ninja turtles are here to read with your kids! These are Free printable Ninja Turtles bookmarks to encourage your kids to read. Give them to your children or use them as giveaways and party favors at a Ninja Turtles themed party. Along with my other free bookmarks, my daughters use these for books they read in school and just for fun! This Ninja Turtles printable is in PDF format and prints 4 different bookmarks to a sheet.
This printable includes 4 different Ninja Turtles characters: Leonardo, Donatello, Raphael and Michelangelo. They have shell patterns in the background, sewer lids that say TMNT and lids that say each of the four turtles names. These are optimized for printing on 8.5 x 11 standard letter size paper. If you have access to a laminator you could laminate these to make them more durable and last for many books :) You can download your free printable Ninja Turtles bookmarks below. Have fun reading with the Ninja Turtles!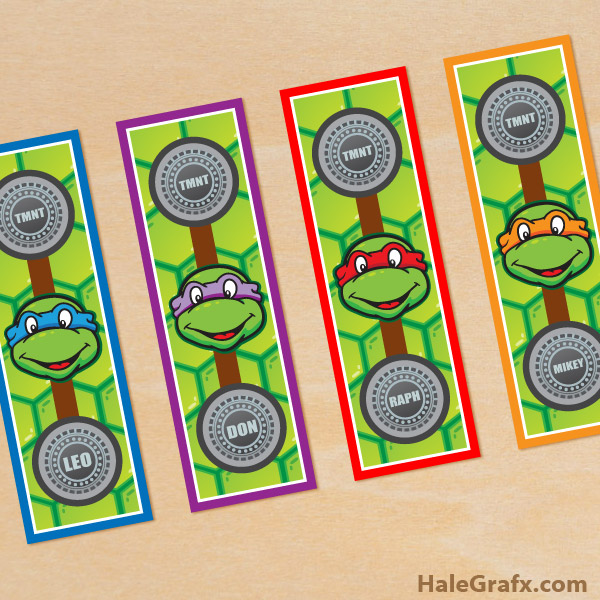 File Size: 538 KB
Format: PDF
Recommended paper for Ninja Turtles bookmarks…
You can really get creative when printing your TMNT bookmarks. For a quick option a multipurpose printer paper works. These bookmarks will last for a book or two but will not be very durable. However if you couple the thin paper with a laminator you will have sturdy bookmarks that will last a long time. Another great option is printing on a tougher white cardstock paper. You can also save on ink long term if you invest in a laser printer. I bought one a few years ago and love it.
What can I use to cut my Ninja Turtles bookmarks?
Scissors can get the job done. But if you are looking to do straight edges and doing them often such as for students in school, I recommend a paper cutter. It will make quick work of all those straight cuts.
Check out the Ninja Turtles party supplies!
To complete your Ninja Turtles party, check out these fun Ninja Turtle Party supplies! Plates, cups, napkins, party favors etc., decorated with Ninja Turtles characters and designs will help tie together your party theme along with all of the free TMNT printables!
Comments