15 May 2018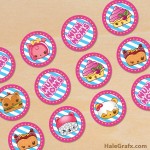 FREE Printable Num Noms Cupcake Toppers
How about having a party with lots of sweets and treats. Decorate those sweets with these free printable Num Noms cupcake toppers. They work great for birthdays and num noms themed parties! These cupcake toppers have 7 different Num Noms designs, each with a Num Noms toy character. These include: Becca Bacon, Strawberry Froyo, Hammy Burger, Haley Hotdog, Sunny Omelette, and Tori Toro.
Do you already have cupcake toppers? Well then print these on sticker paper and make large Num Noms stickers to go on party favor bags, gifts and other creative uses you can come up with. These FREE Num Noms cupcake toppers print 12 to a sheet in PDF format. These free cupcake toppers are designed to be cut with scissors or a 2 inch craft punch and printable on 8.5 x 11 standard letter size paper.
Assemble your Num Noms cupcake toppers with tape or glue and toothpicks. You can also use these as table scatter. I do it at every party and it really dresses up are table. You can download your free printable Num Noms cupcake toppers below.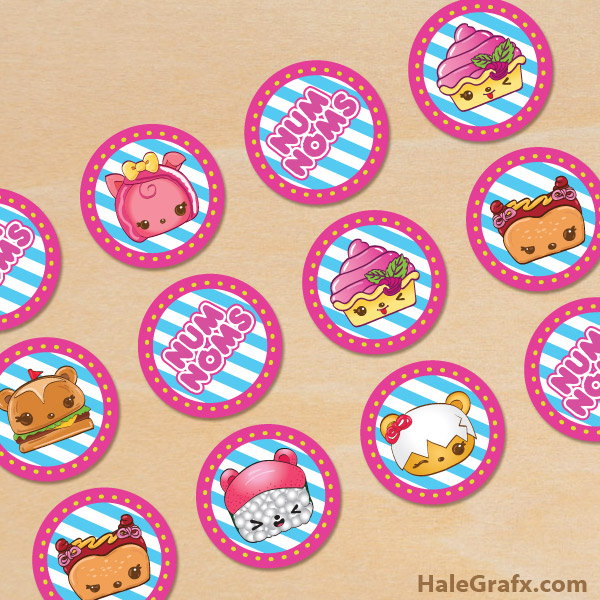 File Size: 804 KB
Format: PDF
What's the best paper for Num Noms cupcake toppers?
Cupcake toppers work fine on an economical choice such as multipurpose printer paper. It is easy to bend and quick to trim. You can save on ink long term if you invest in a laser printer as well. I bought one a few years ago and love it. If you want your Num Noms cupcake toppers last longer, try using a cardstock paper.
Don't forget Num Noms toys and gifts!
To complement your Num Noms party, check out these fun Num Noms toys and party favors! After grabbing some of these items grab some matching plates, utensils and napkins. You may be able to find them at your local dollar store to save more money.
Comments