27 Aug 2017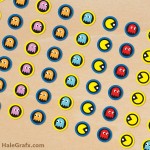 FREE Printable Pac-man Hershey's Kisses Stickers
Share power pellets with your party guests! These are free printable Pac-man Hershey's Kisses stickers to decorate sweets and snacks for your upcoming video game party!  Pick some small candies and stick them on. Hershey's kisses and mini Reese's Peanut Butter cups work great. There is a variety of candies you could put these on and let your guests chomp away, pac-man style. Even small lollipops work great. They also work great as table scatter or confetti! After you stick them to candies, put them in favor bags, a serving bowl or even a custom pac-man piñata!
This free Pac-man printable comes in PDF format and prints 54 Pac-man themed stickers per sheet. There are 4 ghosts and Pac-man with a pellet for designs. Here are some simple instructions to print and create your free Pac-man Hershey's Kisses Stickers.
1) Print on 8.5×11 sticker paper such as Avery #8165. You can find the sticker paper here.
2) Punch out circles with 3/4 inch circle craft punch. Available online here.
3) Stick to the bottom of Hershey's Kisses or mini Reese's Peanut Butter Cups
Also great for scrapbooking and super hero themed envelop seals. Why not use them for sticker giveaways for your Pac-man fans. You can download your free printable Pac-man Hershey's Kisses stickers below.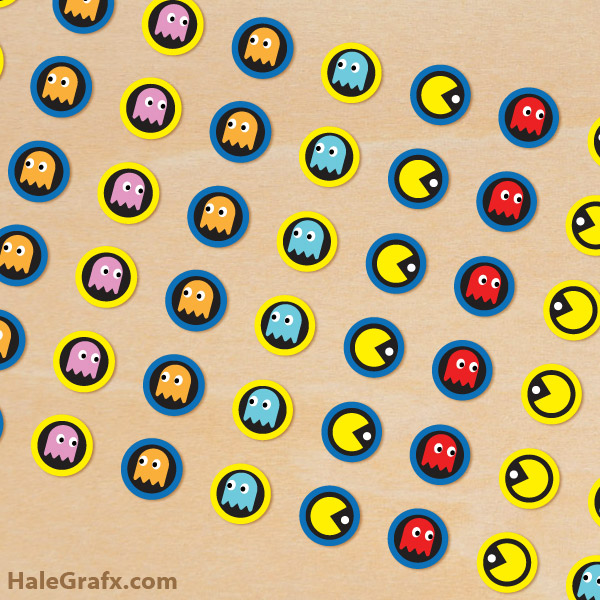 File Size: 239 KB
Format: PDF
Grab some Pac-man party supplies & accessories!
To complete your Pac-man. party, check out these fun Pac-man party supplies, party favors, balloons and gifts. Grabbing some fun party decor, napkins and decorations will help tie together your retro video game theme!