09 Jan 2014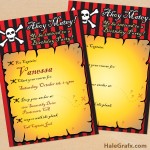 FREE Printable Pirate Birthday Invitation
Ahoy Mateys! It's pirate birthday party time! Download this free printable Pirate birthday invitation and choose from two easy to use formats to create your invitations.
JPEG Pirate Printable Invitation

Using the free JPEG Pirate invitation you can either quickly print and fill in your details with a pen or marker; if you know Calligraphy that looks great too! In this pirate invitation, Lead your crew to the party by telling them that it's the captain's birthday, chart the course for the date, have them drop anchor at your address and finally tell prospective pirates that they need to RSVP or walk the plank.
If you have graphic editing software such a gimp or Photoshop, another option is edit the jpeg and add in your party info and then send it to print. This Pirate themed invitation measures 5 x 7 inches.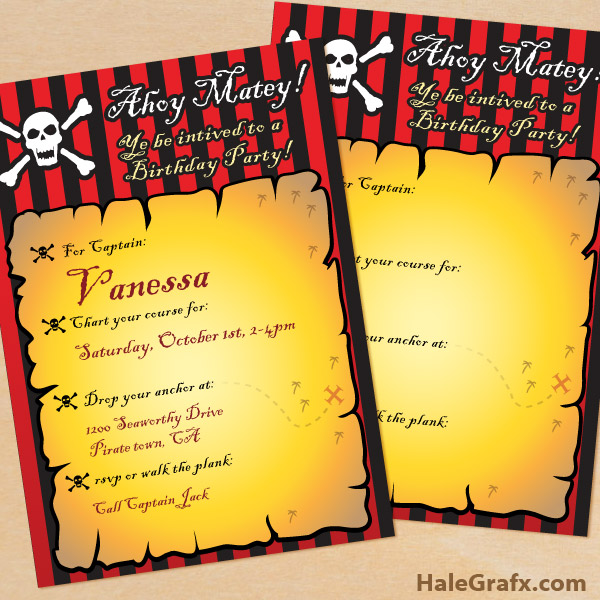 PDF Pirate Printable Invitation – Easy Type and Print Option!

Like the JPEG invitation, you can easily print this free invitation and then fill in your info with a pen or marker.
The PDF version also has the more convenient option of allowing you to type your details directly into it and then sending to print. If you use the typing option it will automatically use an embedded font that matches the old map paper in the pirate invite. The free Pirate PDF printable will print two invitations to a sheet at 5 x 7 inches. You can download your free Pirate birthday invitation below!
File Size: 1.21 MB
Format: PDF & JPEG
Comments