30 Nov 2018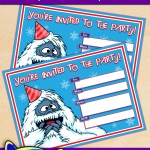 FREE Printable Rudolph Bumbles Party Invitation
Here is a free printable party invitation with Bumbles the abominable snowman from Rudolph the red-nosed reindeer stop-motion film. This invitation is perfect for either Christmas parties or winter and Christmas time birthdays. This invite has Bumbles looking surprised about the upcoming party. In the movie it's actually when he finds his teeth removed. The text says "You're invited to the party!" in the Rudolph movie font. There are two file-formats to choose from; JPEG and PDF.
JPEG Rudolph Bumbles Printable Invitation
Using the JPEG is the easy way to go. Just open the file in any basic graphics program (paint, photo viewer) then print and write in the details. This invitation measures 5 x 7 inches.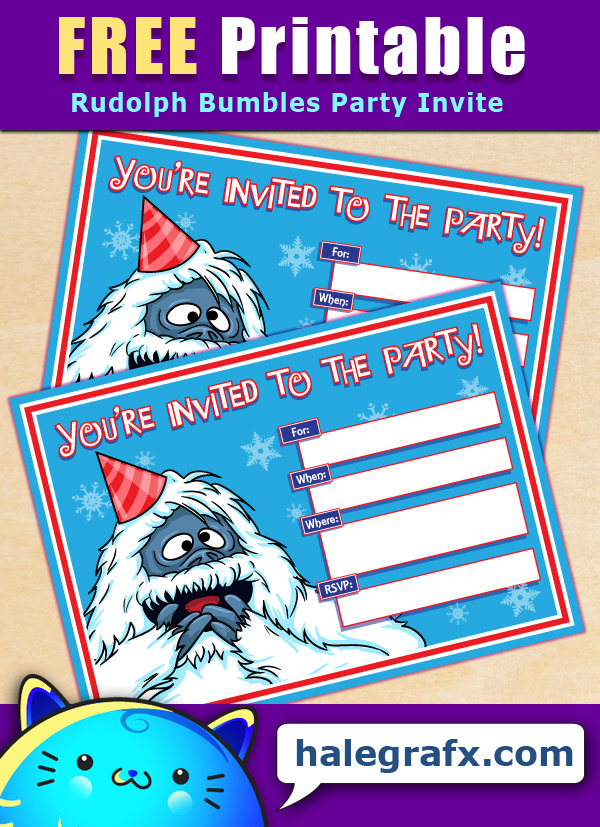 PDF Rudolph Printable Invitation – Easy Type and Print Option!
Just like JPEG invitation, you can easily print your free Rudolph themed invitation and then fill in your info with a pen or markers. With the PDF you can save time. The PDF file has text fields you can type into and then print.  There are four fields to type in: Who/what the party is for, when the party is, party location and RSVP info. The free Rudolph Bumbles PDF printable is formatted to print two invitations to a sheet at 5 x 7 inches. You can download your FREE Printable Rudolph Bumbles Party Invitation below!
File Size: 1.48 MB
Format: PDF & JPEG
What paper is best for Bumbles party invitations?
If you want the invitation to feel like a card bought from a store, use white cardstock paper. To save more money, you can try a multipurpose printer paper. This is just standard printer paper. It's flimsier but I tend to use it more. The invitations still work fine and look really nice.
What can I use to cut my Rudolph Bumbles invitations?
Scissors work fine but if you have difficulty cutting straight edges, a paper cutter comes in handy!  It will save time if you need to cut printables often. It is also helpful because you can cut more than one piece of paper at a time. I have also cut them with a ruler and X-acto knife. It gives you perfect edges but takes a very long time when you have a lot of invites. I have a couple different paper cutters for all my free printables :)
Don't forget Rudolph party supplies!
To complete your Rudolph Bumbles themed party, check out these fun Rudolph the red-nosed themed gifts!  Also grab some plates, cups, napkins, party favors etc in Christmas colors at the dollar store. These inexpensive items will help complete your Rudolph Christmas party theme.