30 Sep 2016

Here is a way to really sweeten up your Shopkins party. These are free regular sized printable Shopkins candy bar wrappers for your upcoming party. These free Shopkins wrappers fit onto 1.55- 1.75 oz Hershey's bars or similar sized candy bars. You could use them on cliff bars, odwalla or larabars if you want something not quite as sweet. These make a fun way to boost the energy of your Shoppies after a bunch of party activities if you go with a healthy bar.  These candy bar wrappers are decorated with different shopkins characters such as Kooky Cookie ans Strawberry Kiss.
There are two different Shopkins wrappers to choose from. There are fun ingredients on the back of wrappers. These free wrappers print from a PDF file optimized for 8.5 x 11 inch paper. Printing on standard printer paper works well and these print two Shopkins wrappers to a sheet. Just print, cut and wrap around your favorite bar with a little bit of tape or glue. Put the decorated candy bars in party favor bags, wrap snack bars for your Shoppies or put them in on a wrapped item in a lunchbox! Also take them on a picnic. Below you can see these as an example on Hershey's bars. You can download your free printable Shopkins candy bar wrappers below.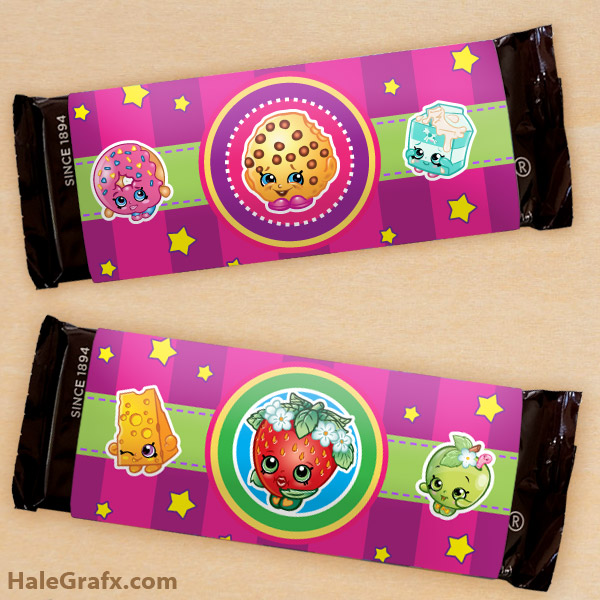 File Size: 465 KB
Format: PDF
If you need paper for Shopkins wrappers…
Save on your Shopkins wrapper printing or printing many other free shopkins printables from HaleGrafx. You can get regular printer paper here.
Don't forget Shopkins party supplies!
To complete your Shopkins party, take a look at these Shopkins party supplies! Plates, cups, napkins, party favors etc., decorated with various characters from the Shopkins lineup that will help tie together your party theme!