18 Feb 2016
Home
»
Printables
» FREE Printable St. Patrick's Day Alphabet Banner Pack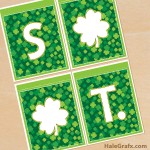 FREE Printable St. Patrick's Day Alphabet Banner Pack
Posted in Printables By Kevin Hale On February 18, 2016

Looking for a lucky banner for this St. Patrick's day? This free printable Disney St. Patrick's Day banner pack has all the letters in the alphabet, is themed with lucky four leaf clovers and of course, lots of green. The letters include two versions of the letter T so you can spell "ST." or make your own words with a T with no period and have a custom banner. Great if you want to come up with your own phrases for St. Patrick's Day such as "Lucky", "Luck of the Irish", "Happy St. Patrick's Day". Another great option is using it as a birthday banner for someone who is lucky enough to have their birthday on St. Patrick's day. Spacer sheets include a large white Shamrock in the middle of all the green ones in the background.
Just pick the letters and spacers you want to print to make your own Birthday, party or event banner and add a custom name or phrase. In no time you will be able to easily create your own custom Disney St. Patrick's Day birthday party banner. This pack includes some simple instructions for assembling with string and tape. Each letter prints from a single PDF file will fill most of a 8.5 x 11 sheet of paper unless you shrink it in your print settings. When assembled this banner makes a large and eye-catching decoration for a St. Patrick's Day party. You can download your free printable St. Patrick's Day alphabet banner pack below.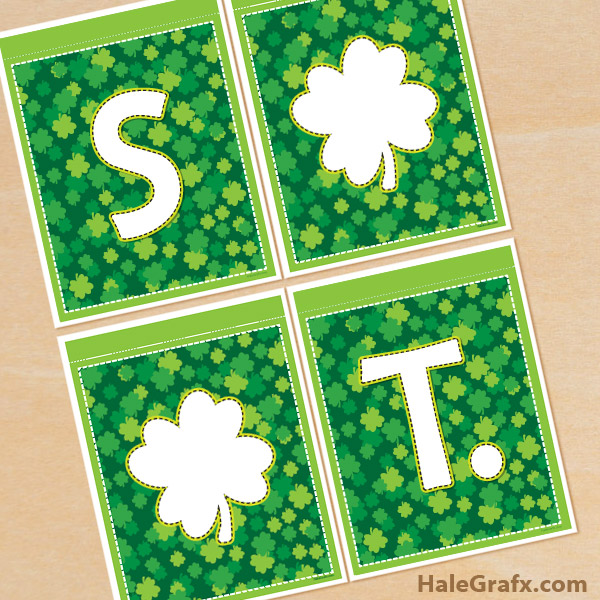 File Size: 2.49 MB
Format: PDF
Want more free St. Patrick's Day Printables?
Check out my whole collection of free St. Patrick's Day printables here!