05 Nov 2017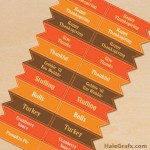 FREE Printable Thanksgiving Themed Toothpick flags
Be festive and put fun little flags on your food for Thanksgiving! This is a free printable set of Thanksgiving themed toothpick flags. These toothpick flags are in the Burgee style also known as the swallowtail style. This set includes a variety flag that say things like "Happy Thanksgiving", "Give Thanks", "Thankful",  and "Gobble 'til you wobble". In this set there is turkey, pumpkin pie, stuffing, rolls, and  cranberry sauce labels. I am getting hungry just typing this. These little flags are easy to cut and assemble on toothpicks with a little glue or a glue stick. They are all in fall and thanksgiving themed colors. Use them to label all your foods, or just use the picture flags to decorate your Thanksgiving muffins or cupcakes.
These Thanksgiving toothpick print from a pdf file and print 11 to a sheet. You will need toothpicks, scissors and some glue to assemble. These are optimized to print on 8.5 x 11 inch paper. Download your free printable Thanksgiving themed toothpick flags below!
File Size: 199 KB
Format: PDF
What paper works best for Thanksgiving Toothpick flags?
For toothpick flags I recommend multipurpose printer paper. It is easy to bend and quick to trim and economical. These are definitely flimsier but once folded together they are perfect for labeling food and theaming your dinner.
What Can I Use to Cut My Paper?
Scissors are best for these little swallowtail-shaped flags. They shouldn't take too long and your guests will love them.
Grab some Thanksgiving party supplies & accessories!
To complete your Thanksgiving. party, check out these fun Thanksgiving decorations. Then grab some table cloths, cups, streamers, plates and utensils in fall colors at your local dollar store.