28 Jul 2022

Hey Undertale fans, fill your party with determination! Grab this FREE printable Undertale alphabet banner pack for your video game, computer game or Undertale themed parties. This fun and free banner pack comes with all letters in the alphabet and some spacer sheets to put between words you create. There are so many different ways you can make your own custom Undertale birthday party banner.
Thee spacer sheets have three of the major characters in the game; Sans, Papyrus and Frisk. Print as many as you need to separate your words. Each banner page has Undertale's logo at the bottom. The banner pages are dark much like the color scheme when you get in a boss fight. The banner letters print on 8.5 x 11 single page PDFs, each spacer sheet prints from its own PDF file so along with the letters you can print which ones you want.
Included with this Free Undertale banner are instructions on how to assemble for your party. When this banner is assembled on string with the words "HAPPY BIRTHDAY" it is over 10 feet wide and all your Undertale fans, friends and family will be impressed by it. Using Adobe Acrobat reader You can optionally shrink it in your print settings to save on paper. I've printed them smaller before by printing four letters to a sheet. You can download your free printable Undertale alphabet banner Pack below.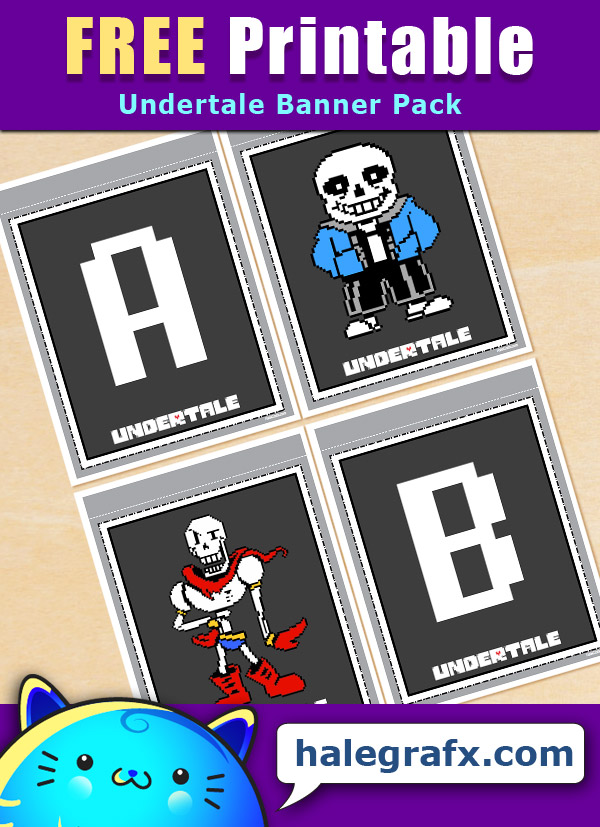 File Size: 1.01 MB
Format: PDF
What paper is best for printing the Undertale Banner?
The  downside to printing your own banners is they use a lot of paper and color! Keep it simple and use multipurpose printer paper. It is easy to print and quick to trim. You can save on ink long term if you invest in a laser printer as well. I can print thousands more color pages than an inkjet printer per cartridge and I also buy refurbished cartridges. The laser toner cartridges cost me less than ink cartridges. A really great idea if you plan on doing a lot of parties with printables for years to come. Also great for scrapbookers and homeschoolers. You might pay more for a laser printer but it will pay for itself in no time.
You may notice that your banner will curl a bit with the thinner paper. If you want to prevent this, try using a cardstock paper. I'm perfectly happy with my standard paper prints though.
Don't forget Undertale party gifts!
If you need some fun gift or party favor ideas to go with your free Undertale party printables, check out these fun Undertale party gifts!  Head to Walmart or a dollar store for plates, cups, napkins, streamers etc in simple colors to match. Buying solid color plates and napkins saves lots of money!