10 Aug 2015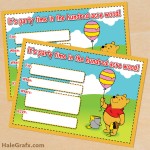 FREE Printable Winnie the Pooh Birthday Invitation
Here is a free printable Winnie the Pooh birthday invitation for your upcoming party in the hundred acre wood. This invitation has Winnie the Pooh painting a balloon with stripes like a honey bee. Winnie the pooh is always thinking about honey! You can choose from PDF and JPEG formats for printing your Winnie the Pooh invite.
JPEG Winnie the Pooh Printable Invitation
If you want to keep it simple or are not too tech savvy, the jpeg Winnie the Pooh invitation is super simple to use. Just print out the jpeg of friendly little Pooh bear and write in your party details. Great also to use with colored markers and write your party info in fun and creative ways. This Winnie the Pooh themed invitation measures 5 x 7 inches.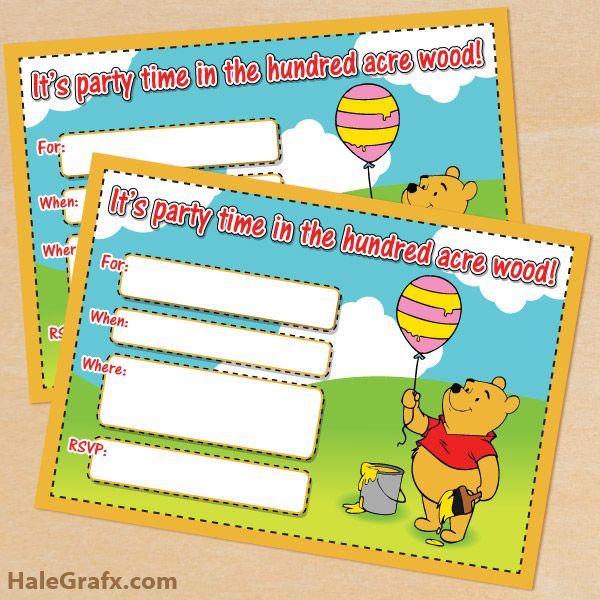 PDF Winnie the Pooh Printable Invitation – Easy Type and Print Option!
Much like JPEG invitation, you can simply print your free Winnie the Pooh invitation and then fill in your info with a pen or marker. If you want to save time and only write your party details once, use the easy type and print option in the PDF. There are a number of editable areas to type in the birthday recipient, time of party, party location and RSVP info. Open this PDF in adobe Acrobat or Acrobat reader and type into the fields. The free Winnie the Pooh PDF printable will print two invitations to a sheet at 5 x 7 inches. You can download your free My Neighbor Winnie the Pooh birthday invitation below!
File Size: 1.13 MB
Format: PDF & JPEG