21 May 2017
FREE Printable Yo-Kai Watch Bookmarks
Summoning Yo-Kai fans! Here are Free printable Yo-Kai bookmarks. These work great to encourage kids to read and also giveaway as party favors at a Yo-kai or anime themed party. When I first saw Yo-kai in stores, I thought it was a Pokemon clone. I started watching the anime with my girls and found it to be quite different and hilarious to watch.
This Yo-Kai printable is in PDF format and prints four different bookmarks to a sheet. The bookmarks include Nate, the main character from the cartoon and four Yo-kai: Whisper, Jibanyan, Komasan & Komajiro. The bookmarks have Yo-kai character names as well as encouraging phrases; "The Yo-kai pad says you should read", "Summoning readers".
These are optimized for printing on 8.5 x11 standard letter size paper. If you have access to a laminator you could laminate these to make them more durable and last for many books. My youngest daughter is big into Yo-kai right now and so I have a task to create many printables that you may be able to use as well :) You can download your free printable Yo-Kai bookmarks below. Enjoy!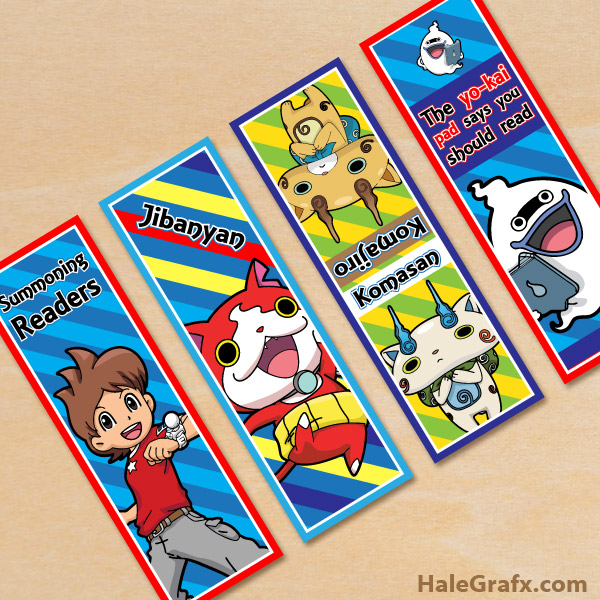 File Size: 388 KB
Format: PDF
Check out all the great Yo-Kai gift ideas!
There are lots of great Yo-Kai party supplies to go with your free printables. Make birthday or holiday shopping easy! Check out at all the Yo-Kai toys and gifts here! There are some LEGO sets available.