02 Apr 2017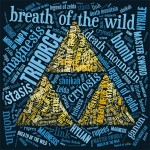 FREE Printable Zelda Breath of the Wild Word Art
In our house we have a day called Zelda Day and we celebrate it on the original release date of Zelda 1 for Nintendo. This year we celebrated on the release date of The legend of Zelda: Breath of the Wild. In celebration of this amazing game, here is free printable Zelda Breath of the Wild word art. With this Zelda word art you can download, print, frame, use for digital scrapbooking and a variety of other of creative Legend of Zelda themed purposes. On Zelda Day we printout a bunch of my free Legend of zelda printables, have a party and play different Zelda games.
This Breath of the Wild Zelda word art has words and phrases such as Zelda, magnesis, stasis, bomb, cryosis, great fairy, TLOZ and BOTW. The image is 12 x12 inches, 300 DPI in JPEG format. I framed mine and used it for our recent Zelda Day Party on March 3 and after that it went up in my room. Everyone in the house loves Zelda so keeping it up wasn't an issue. You can download and enjoy your free printable Breath of the Wild Zelda word art below.
File Size: 3.5 MB
Format: JPEG
Check out all the great Zelda gift ideas!
There are lots of great Zelda themed gifts and games to go with your free printables. Make birthday or holiday shopping easy! Perfect for a Legend of Zelda themed party or gaming get together with friends.