05 May 2012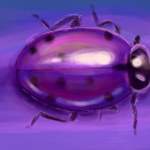 Ladybug Nintendo DS Illustrations
I have a Nintendo DS lite and I have homebrew applications installed on it. One of those applications is Colors which is also available on iPhone and the 3DS as well. The great thing about using it on Nintendo DS is that you have a stylist and can do more precise drawing. Of course you could get the Jot stylus for IPad or IPod touch and draw pretty well too but if you have a nintendo DS lite sitting around, creating drawings this way is fun and convenient.
Just experimenting with it I tried doing some illustrations and exporting them to the computer. I was pleased with the results!
Here are four ladybug illustrations I came out with was able to put onto products at zazzle.com. They weren't high-resolution enough to put on things such as shirts but they worked great as stamps. check them out here!
This first one is a green convergent ladybug. I decided to do it monochromatic, emphasizing the colors of its environment though these ladybugs are usually bright oranges.
Another one we have here is an Asian ladybug on a pink flower petal.
This one is a purple convergent ladybug and the colors were inspired from the steel blue bird ladybug as well as some other ladybug species that have this chrome purple color.
And this last one is a really little ladybug on a leaf. I believe I intended it to be an Asian ladybug but I didn't really make the species specific. Just more experimentation with the stylus on the Nintendo DS. These look better shrunk down a bit which is why they work great as for my stamp art on zazzle but hopefully you can get a good idea of some of the effects you can achieve with this little program.
Comments