23 May 2012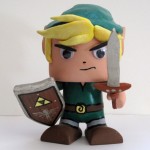 Legend of Zelda Link Color Blanks Figure
Though certainly not one of my best creations, this Legend of Zelda Link figure is one of my favorite Color Blanks that I worked on. I have been following the Legend of Zelda Nintendo game series since I was a kid and I'm always looking forward to the new games that keep coming out. I modeled this particular Color Blanks figure after the Link in the Wind Waker game that came out for Nintendo Game Cube.
Rose Art has a Color Blanks figure that has a sort of marshmallow head and I use that version as it seemed as a good fit for the model. On this particular one I use those googly eyes that you can purchase in bags so the eyes actually move if you tilt the figure in different directions.
The shield, sword, hair, hat and pretty much all other external pieces are made from polymer clay. Everything else was a mixture of acrylic paint, micron pens and Sharpies.
In the future I would like to do some other versions of Link  like the one from the original Legend of Zelda game and maybe one from Twilight Princess as these Link characters look distinctly different through the series. There is also now a Skyward Sword figure to tackle!
Comments