27 Jul 2012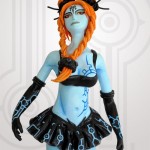 The Legend of Zelda Sailor Midna Statue
Sculpting a Sailor Midna statue was a fun learning experience for me. I was able to learn new skills and techniques through the creative process. This Legend of Zelda Sailor Midna statue is made out of polymer clay, acrylic paint and some electrical components to make LED lights work inside of it.
In the past I've only made pretty basic polymer clay figures and statues or sculpted polymer clay on existing figures to modify and enhance them. I knew I wanted to start making figures and statues of my favorite characters but I also wanted to make something unique. I've always been a big fan of various videogame characters as well as anime characters and decided to do a crossover. This statue takes components inspired by the anime Sailor Moon and integrates them with Midna from the Legend of Zelda: Twilight Princess.  Midna has very dynamic components on her outfit, tattooing and general color scheme, so it was fun to translate this into a Sailor Moon type character.
One of the first things I did was figure out how to correctly wire LEDs. I then created a general plan for the stand and the location of the switch and battery.
I like to think that I'm pretty practical when it comes to reusing old items in my creations and found some reused old items to make the stand and armature for the statue.  I made the stand out of an old Starbucks hot chocolate tin lid and the armatures for the body was made from extra ground wire I had used in my outside light repairs. I intertwined the wires for the LED connections in to the armature for connecting to the LED's at a later time. You can see the initial construction below.
I was able to take some RadioShack components such as a rocker switch, speaker wire and some LEDs and test the connection. Note that I did not solder anything yet. With everything working I was ready to sculpt my figure.
While I could have used Super Sculpey I went with cheaper, basic Sculpey as well as some off brands.  It's important to note that while I sculpted, I removed the battery, LEDs and rocker switch and left only the wires. The wires were the only thing capable of standing up to the heat when I cooked the Sailor Midna statue.
I used primarily three colors of polymer clay; I used white for the body, black for the arms of Midna's outfit and orange for her hair. The rest of the details colors such as tattoos and glove designs were painted with acrylic paints and Micron pens. The ties in the top of Midna's hair were made from the same speaker wire running through here body. The Midna statue was finished with a matte clear coat.
The LED lights reside in Sailor Midna's hair buns. Below you can her with the LEDs turned on.
Comments