11 Feb 2014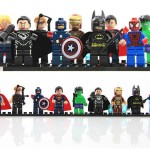 9 Super Hero Building Block Minifigure Giveaway
On this site I offer lots of free stuff that I hope you will find useful; free printables, free svg files, free vectors and I am always adding more!  It is RAK (Random Act of Kindness) week and I thought it would be a great time to start offering some free items and giveways to complement some of the fun free printables and graphics I offer.
This first free giveway is for 9 super hero building block minifigures that include: Captain America, Iron Man, Superman, Batman, The Incredible Hulk, Thor, Spiderman, Hawkeye, General Zod. I have a set of these myself and they work great with my LEGO sets. You can see how to enter the Super Hero Building Block Minifigure Giveway below.
Don't forget to check out my FREE LEGO printables for your parties!
While this giveway is only open for a limited time, my LEGO printables will always be FREE. Check them out here!
Comments