22 Feb 2014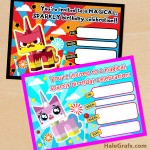 FREE Printable LEGO Movie Unikitty Birthday Invitation Set
We are huge fans of LEGOs in our house and we loved the LEGO Movie when we saw it. My girls loved Unikitty and Cloud Cuckoo Land so some Unikitty printables were required. For fans of the LEGO Movie and Unikitty here is a free set of Unikitty invitations. You can choose from ultra super happy, sparkly Unikitty or Angry kitty to invite your LEGO party goers. These invitations say "You're invited to a Magical Sparkly birthday celebration."
JPEG LEGO Unikitty and Angry Kitty Printable Invitations

Using the free JPEG LEGO invitations you can either quickly print and fill in your details with a pen or marker. If you have colored markers you can color coordinate with either of these Unikitty invites in your handwriting. You can also open up this invite in your favorite photo editing software and add in the details if computer editing is more your thing. This LEGO themed invitation measures 5 x 7 inches.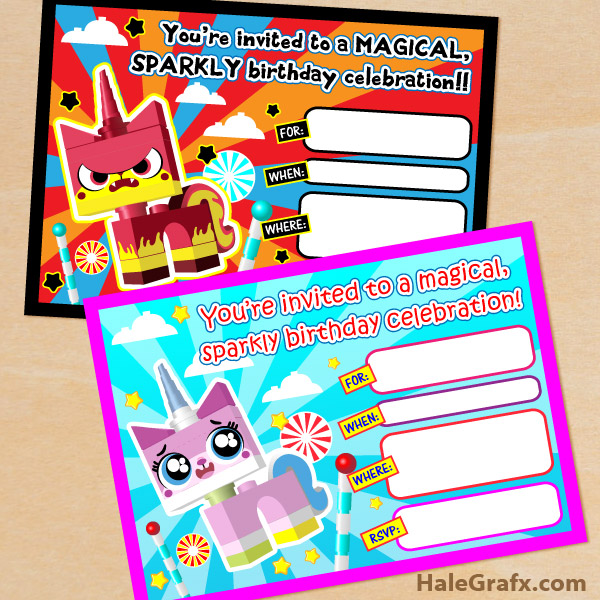 PDF LEGO Unikitty and Angry Kitty Printable Invitations – Easy Type and Print Option!

Like the JPEG invitations, you can easily print these free Unikitty invitations and then fill in your info with a pen or marker.
The PDF versions also have the more convenient option of allowing you to type your details directly into them and then sending to print. The free LEGO Movie PDF printable will print two invitations to a sheet at 5 x 7 inches. You can download your free LEGO Movie Unikitty birthday invitation set below!
File Size: 1.97 MB
Format: PDF & JPEG
Comments