07 Jan 2020
Home
»
Printables
» FREE Printable Bendy and the Ink Machine Alphabet Banner Pack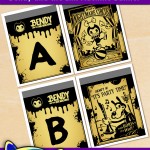 FREE Printable Bendy and the Ink Machine Alphabet Banner Pack
Posted in Printables By Kevin Hale On January 7, 2020

Are you in need of a birthday banner for your upcoming party? Here is a FREE printable Bendy and the Ink Machine banner pack for Bendy and the Ink Machine themed birthday parties.  This free printable Bendy themed banner includes all the letters in the alphabet in the black and dingy yellow found in the horror themed game.
With this free banner pack, you can create a custom birthday banner where you can include a name in your banner, a creepy phrase, or just make one full of the picture sheets There are 3 different Bendy spacer sheets to choose from. The possibilities are endless!
This free printable banner has been optimized for 8.5 x 11 inch letter-sized paper and includes single page PDFs. The spacer sheet also print from individual PDF files.  This will also work well printed on A4 paper size.
If you use the letters for "Happy Birthday", printed full size and assembled on string, the banner is around 10 feet wide. It looks great and creates a great centerpiece for Bendy and the Ink Machine party decor.  You can optionally shrink it in your print settings to save on paper and/or ink. You can download your free printable Bendy and the Ink Machine alphabet banner pack below.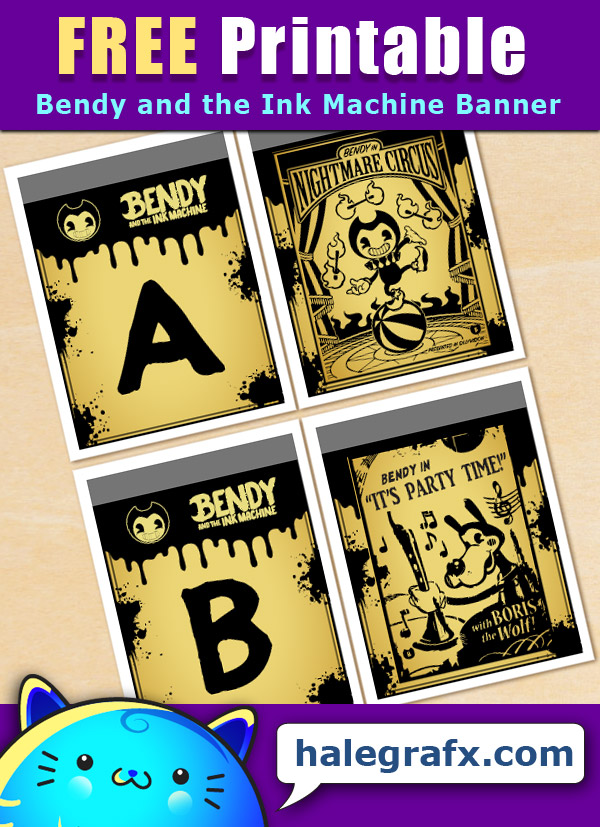 File Size: 2.71 MB
Format: PDF
What paper is best for a Bendy and the Ink Machine Banner?
Printing banners uses a lot of paper. I'd just go with standard multipurpose printer paper. The thin paper is easy to cut and the letters look great! You can save on ink long term if you purchase laser printer as well. A really great idea if you plan on doing a lot of parties with printables for years to come. Also great for scrapbookers and homeschoolers. Laser printers don't use ink they fuse colored powder to the paper so there is minimal curling and a good laser printer set of cartridges will last you between 3000 – 5000 papers. I buy mine refurbished and cost less than a ink  color cartridge.
If you get any page curling and you want to prevent this, you can try using a cardstock paper. I honestly think it looks great with standard paper.
Check out all the great Bendy and the Ink Machine gift ideas!
There are lots of great Bendy and the Ink Machine toys to go with your free printables. Make birthday or holiday shopping easy! Check out at all the Bendy and the Ink Machine toys and gifts here! Grab some cheap colored plates, napkins, streamers and utensils that match your party theme from the dollar store or walmart. Another great way to keep your party on a budget!