10 Mar 2014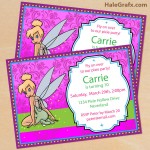 FREE Printable Disney Tinkerbell Birthday Invitation
Do you have a Tinkerbell fan in the house or someone who just loves fairies? Here is a free printable Tinkerbell birthday invitation for your Tinkerbell or fairy themed party. This invitation comes in three different formats to give you plenty of options to personalize your party. You can choose from PDF, PSD and JPEG.
JPEG Tinkerbell Fairy Printable Invitation

Are you looking for a quick solution? Just print out the Jpeg and write in your details. This option is great if you have nice hand writing and some colored pens or markers too! This Tinkerbell themed invitation measures 5 x 7 inches.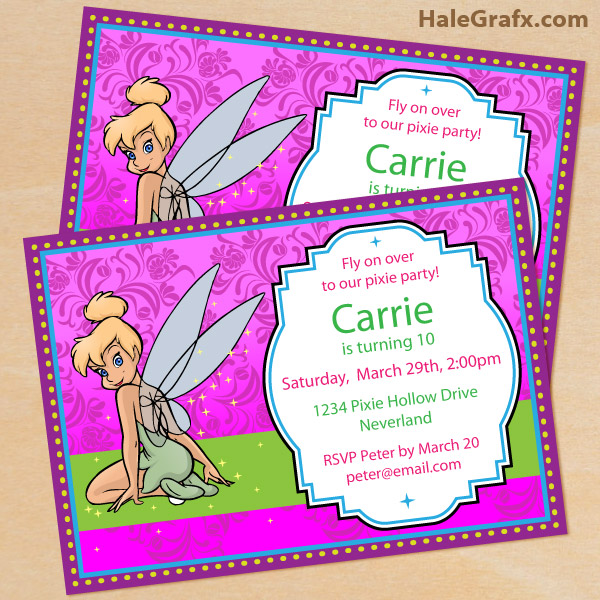 Photoshop (PSD) Tinkerbell Fairy Invitation

If you are fortunate enough to have a copy of Photoshop, you can use the provided Disney Tinkerbell invitation in psd format where you can go in an directly edit each text area on a layer; even change the font if you want. I used a basic font that you may already have on your computer but you could add a really whimsical font and let your creativity go! Everything is already spaced, colored and ready for you to personalize :)
PDF Tinkerbell Printable Invitation – Easy Type and Print Option!

Like the JPEG invitation, you can easily print your free Tinkerbell invitation and then fill in your info with a pen or marker.
Not looking to do any handwriting on your fairy invitations? The PDF version also has the more convenient option of allowing you to type your details directly into it and then sending to print. There are a number of  editable to type in the birthday recipient, intro text, an additional message such as the age they are turning, when, where and the RSVP info. The free Tinkerbell PDF printable will print two invitations to a sheet at 5 x 7 inches. You can download your free Disney Tinkerbell fairy birthday invitation below!
File Size: 2.88 MB
Format: PDF, PSD & JPEG