06 Nov 2016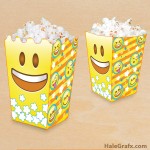 FREE Printable Emoji Popcorn Box
Hey texters and chatters! Here is a free printable Emoji popcorn box for your Emoji party or upcoming birthday celebration. These are fun to print and create for a birthday or use them just for fun on movie night. You could even take them out at a picnic at the park when you are hanging out with friends. This printable popcorn box is decorated with a variety of Emoji expressions. One panel is a large happy emoji face and the other panel has multiple Emojis :)
Just print, cut, fold, and add a little glue or tape to build your Emoji popcorn boxes. Once you have them put together fill with your favorite popcorn recipe, or make a sweet popcorn candy mix. I use my grandpa's healthy popcorn recipe when I watch movie's with the kids :)
This free Emoji printable is designed to print on 8.5 x 11, standard letter-sized paper from a PDF file. It takes two printed sheets to assemble one popcorn box. An additional popcorn box cutting and folding guide is included in the download. With this template you can make either flat or wavy edged top Emoji popcorn boxes. All side of the popcorn box have the Emoji faces decorating these fun printables. You can download your free Emoji popcorn box Below. Enjoy!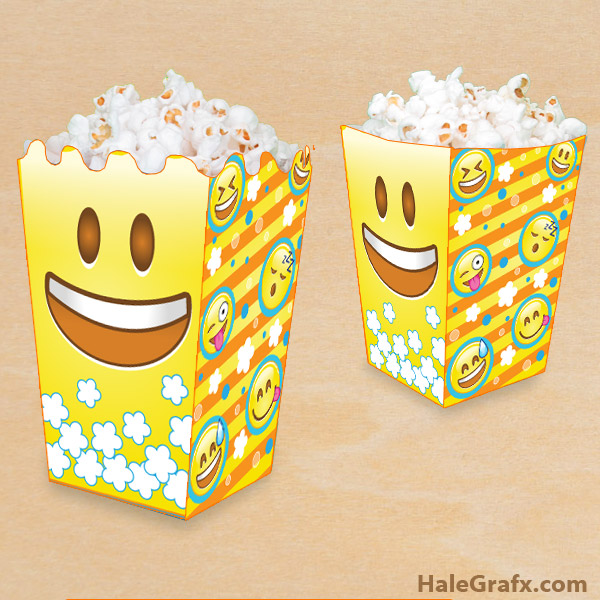 File Size: 265 KB
Format: PDF
What paper works best for Emoji popcorn boxes?
For durable popcorn boxes I recommend using a white cardstock paper. The popcorn boxes hold up really well but will take a little more effort to cut. For a more economical choice try a multipurpose printer paper. It is easy to bend and quick to trim. These are definitely flimsier but once all the sides are together they work well enough for holding a light treat like popcorn.
What Can I Use to Cut My Paper?
Scissors are best for the curvy edges but if you are looking to do straight edges and doing them often, I recommend a paper cutter. It will make quick work of all those straight cuts. It is also helpful because you can cut more than one piece of paper at a time. We have a couple different paper cutters for all our free printables :)
Don't forget Emoji party supplies!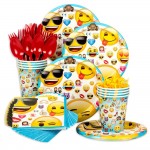 To complete your Emoji party, check out these fun Emoji party supplies! Plates, cups, napkins, party favors etc., decorated with Emoji characters and designs will help tie together your party theme!