06 Nov 2019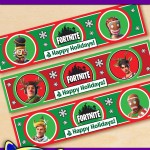 Free Printable Fortnite Christmas Water Bottle Labels
Happy Holidays! I just finished creating these FREE Printable Fortnite Christmas Water Bottle Labels. You can download them in PDF format to print out as many as you would like! If you have Fortnite players in the house, chances are they will be playing during the holidays. These offer a fun way for them to drink beverages during the holidays or just while taking a break between matches.
These free Christmas water bottle labels include 6 different Christmas themed Fortnite skins. There's Codename E.L.F., Red-nosed-raider, Merry Marauder, Red-nosed Ranger, Ginger Gunner and Crackshot. Each label has the Fortnite logo along with "Happy Holidays" text and a silhouette of the Fortnite Llama.
There are 3 different water bottle labels on a single sheet that is optimized to be printed on 8.5 x 11 inch, standard, letter-sized paper. They will fit most regular-sized water bottles.
This free Christmas printable includes crop marks to make cutting out the labels quick and convenient.  I recommend using glue, hot glue or tape to stick your labels on the bottles. You can download your free Fortnite Christmas water bottle labels below.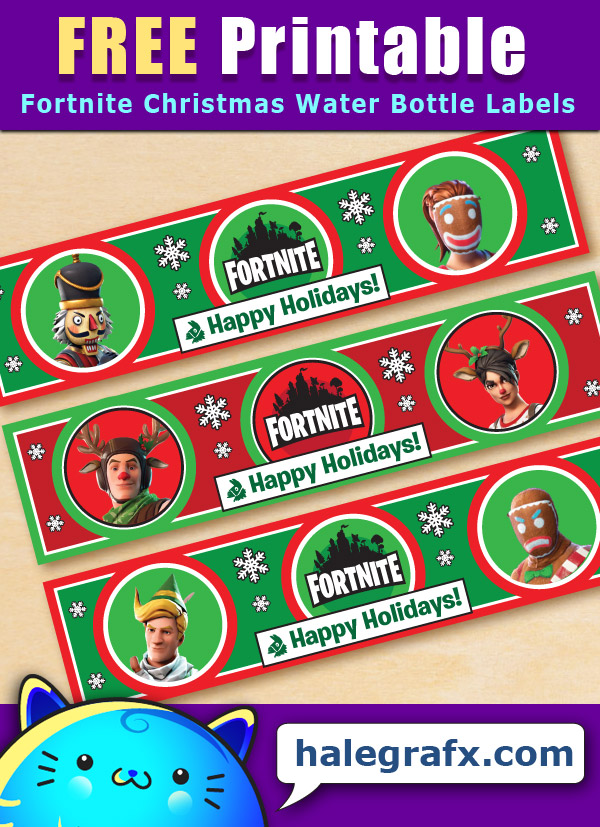 File Size: 2.93 MB
Format: PDF
What paper is best for my Fortnite Christmas bottle labels?
Multipurpose printer paper is cheap and easy. If you have a printer you likely already have this paper in your home! Not to mention cutting, gluing or taping it is quick and convenient. It's also easier to wrap around bottles than a thicker paper.
If you plan on printing your own decoration for years to come, I recommend getting a good laser printer. These printers are designed to print lots of color, it's not wet ink and you can print tons of full color pages before you run out of color in your toner cartridge. Color toner cartridges can be more expensive, but your cost per printable is much lower than standard printers ink cartridge as you can print a ton more per cartridge. If you buy refurbished cartridges like I do it cost about the same or a little less than ink for an inkjet printer. So if you go that route, printing on a laser printer is definitely cheaper and save you a lot of money long term.
If you are worried about your labels getting wet you can coat them with contact paper. If you don't have contact paper, use clear packing tape. Just tape a piece on each side and then cut off the excess. I would still only use the thinner multipurpose paper for this. You can get contact paper here!
Check out my Fortnite Speed Draw of the Prisoner
Don't forget Fortnite toys and gifts!
For the holidays take a look at these fun Fortnite gift ideas! After grabbing some of these items, save money and head to a dollar store. Grab some solid color, plates, napkins and utensils that match the colors of your Fortnite or Christmas party!