27 Feb 2017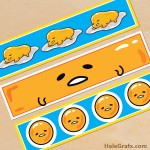 Free Printable Gudetama Water Bottle Labels
For the lazy egg lovers, this is a FREE printable Gudetama water bottle label set is in PDF format. These labels have Gudetama, the lazy egg in various depictions. You can cut these out, decorate your beverages at a Gudetama party, child birthday, preschool activities, scrapbooking or put them on bottles and stick them in your child's lunch. I use them all the time for my older daughter as she is a huge egg lover. This Fun Gudetama themed PDF prints 3 Gudetama themed water bottle labels on 8.5 x11 standard letter size paper and will fit most regular sized water bottles. There are three different water bottle labels each one with Gudetama on his egg white bed, Gudetama's face and round yolk shaped gudetamas. These labels are inspired by the little Gudetama episodes.
This printable comes with crop marks to make cutting out your Gudetama water bottle labels easier! I recommend using glue or tape to stick your labels on the bottles. You can download your free Gudetama water bottle labels below.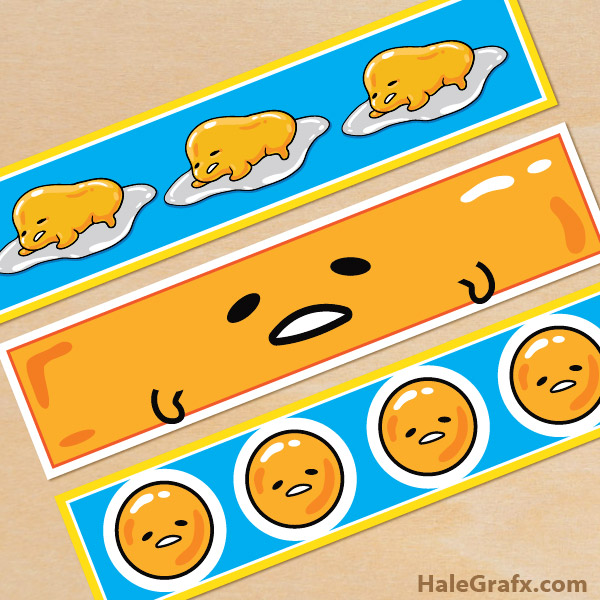 File Size: 293 KB
Format: PDF
What paper is best for my Gudetama bottle labels?
If you need those labels quick, multipurpose printer paper works great! It is easy to print and quick to trim. Your Gudetama party will have fun, egg decorated beverages in no time.
You can save on ink long term if you invest in a laser printer as well. A really great idea if you plan on doing a lot of parties with printables for years to come. Also great for scrapbookers and homeschoolers. I bought one a few years ago and love it.
If making higher quality labels for your Gudetama party is the priority you can try using a cardstock paper. Some of my visitors have been concerned about their water bottle labels getting soggy from the moisture of the bottles and offered a trick. After printing the labels they coat them with contact paper, then cut them, to make them super durable for your little egg lovers. I would still only use the thinner multipurpose paper for this. You can get contact paper here!
Don't forget Gudetama toys and Gifts!
To complement your Gudetama party, check out these fun Gudetama toys and gifts! After grabbing some of these items head to a dollar store and grab yellow and white plates, napkins and streamers to match!