30 Sep 2018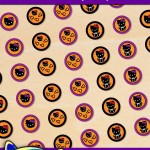 FREE Printable Halloween Hello Kitty Hershey's Kisses Stickers
Halloween doesn't usually make me think of cute things but these free printable Halloween Hello Kitty Hershey's Kisses stickers definitely fit that description. Grab a bunch of hershey kisses, add these free stickers to the bottoms of them and server them in a bowl. Perfect for guests at a Halloween party or giving out to the neighborhood trick-or-treaters.
Hershey's kisses and mini Reese's Peanut Butter cups both work perfect with these free printable stickers. Lolly pops and Rolos work great too!  They also work great as  table scatter or confetti! After you stick them to candies, put them in favor bags, a serving bowl or even a custom  Kitty piñata.
This free Hello Kitty printable is provided in PDF file format and prints 54 stickers per sheet. The designs include Hello Kitty dressed as a skeleton (black with white bones). Also there is candy corn pieces incorporated in some of the designs. Below are some simple instructions to print and create your free Halloween Hello Kitty Hershey's Kisses Stickers.
1) Print on 8.5×11 sticker paper such as Avery #8165. You can find the sticker paper here.
2) Punch out circles with 3/4 inch circle craft punch. Available online here.
3) Stick to the bottom of your favorite candies and serve at your Halloween party!
Using this free printable as stickers makes them perfect as envelope seals. Stick them on all the envelopes that hold your halloween party invitations or just to a card for a friend. You can download your free printable Halloween Hello Kitty Hershey's Kisses stickers below.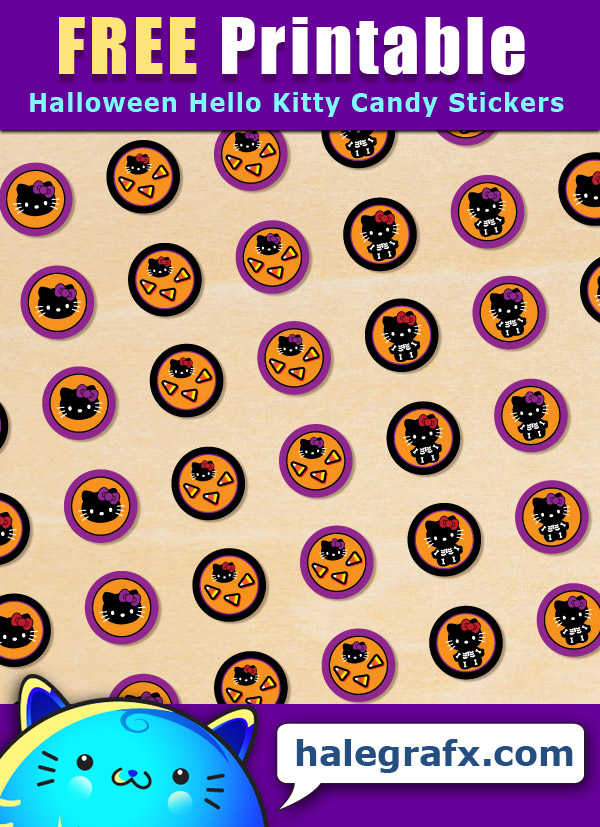 File Size: 411 KB
Format: PDF
Don't forget Hello Kitty toys and gifts!
To complete your Hello Kitty or Halloween party, check out these fun Hello Kitty themed gifts and decorations! To save some money, Also grab orange, black and purple plates, Cups, streamers and utensils from the dollar store.