28 Oct 2019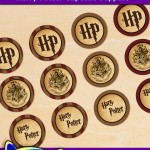 FREE Printable Harry Potter Cupcake Toppers
For fans of wizards, witches and magic, here are free printable Harry Potter cupcake toppers. You can download them and use them for your next Harry Potter themed birthday party! They work perfect for, ofcourse, cupcakes but also work great muffins, cakes, candies and more! These really work great for just about any food that you might want to stick a toothpick into. Use them for Hors d'oeuvres, and even to hold together sandwiches you serve at your next party.
There 3 differentHarry Potter cupcake toppers included in this free printable. They have the letters "HP" in the Harry Potter font, the Hogwarts school crest and then a design that has the text "Harry Potter".  There are a couple variations in border designs on the cupcake toppers. These free cupcake toppers print 12 to a sheet in PDF format.
You can use them than more than just Harry Potter cupcake toppers. One creative idea is to grab some sticker paper, print and make large Harry Potter stickers to go on party favor bags, gifts or stick them on the envelopes of your invitation. You can also use these as fun and free Harry Potter themed table scatter. The Harry Potter cupcake toppers are designed to be cut with scissors or a 2 inch craft punch and printable on 8.5 x 11 standard letter size paper.
Put these Harry Potter cupcake toppers together with tape or glue and toothpicks. You can download your free printable Harry Potter cupcake toppers below.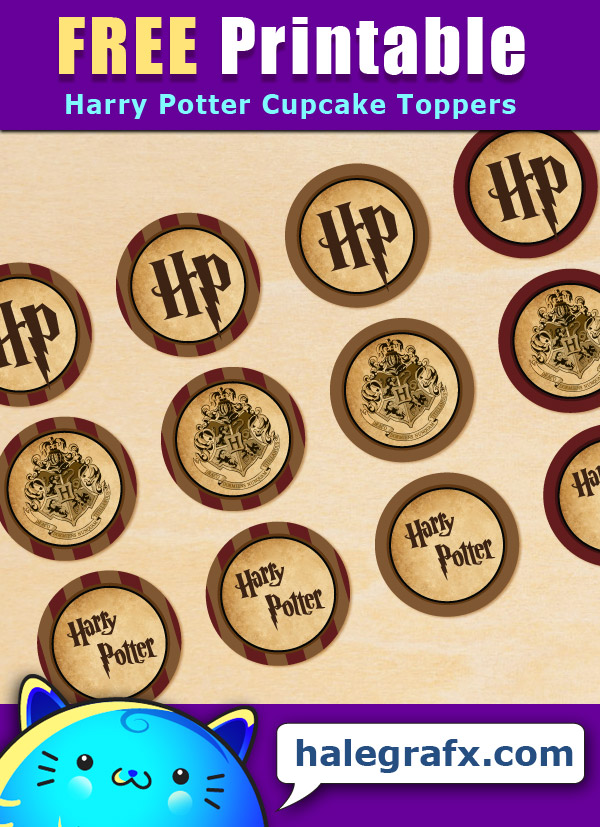 File Size: 1.09 MB
Format: PDF
What's the best paper for Harry Potter cupcake toppers?
Using multipurpose printer paper is easy and inexpensive. You can save on ink long term if you invest in a laser printer as well. I bought one years back and can no longer go without it for my party decorations. If you want your Harry Potter cupcake toppers last longer, try using a cardstock paper. Add some glue/ mod podge and glitter to really punch up the colors and design.
Don't forget Harry Potter toys and gifts!
To go with your Harry Potter themed party, check out these fun Harry Potter gifts ideas! After grabbing some of these items, get plates, utensils, streamers and napkins in from the dollar store. You can get them in solid colors that go with your party theme! Free printables + dollar store decor is a great way to save big on your Harry Potter themed party.