25 Jul 2018

The Incredibles are here to save the world. Here is a FREE printable Incredibles alphabet banner pack. Perfect for an Incredibles or superhero themed party or celebration. This free printable includes all letters in the alphabet to make your own custom Incredibles banner!
Make your name, create a custom message or use it for a birthday banner! There are two spacer sheets that include The Incredibles family and a sheet with the Incredibles logo. The banner letters print on 8.5 x 11 single page PDFs. The letters in the banners are the Incredibles font and each sheet is in incredibles themed colors.
This Free printable banner also includes instructions on how to assemble for your party. When this banner is assembled on string with a few words it is over 10 feet wide and will make an amazing decoration for your Incredibles loving guests! You can optionally shrink it in your print settings to save on paper. The shrunk setting I have found useful is 4 letters per sheet. You can download your free printable Incredibles birthday alphabet banner below.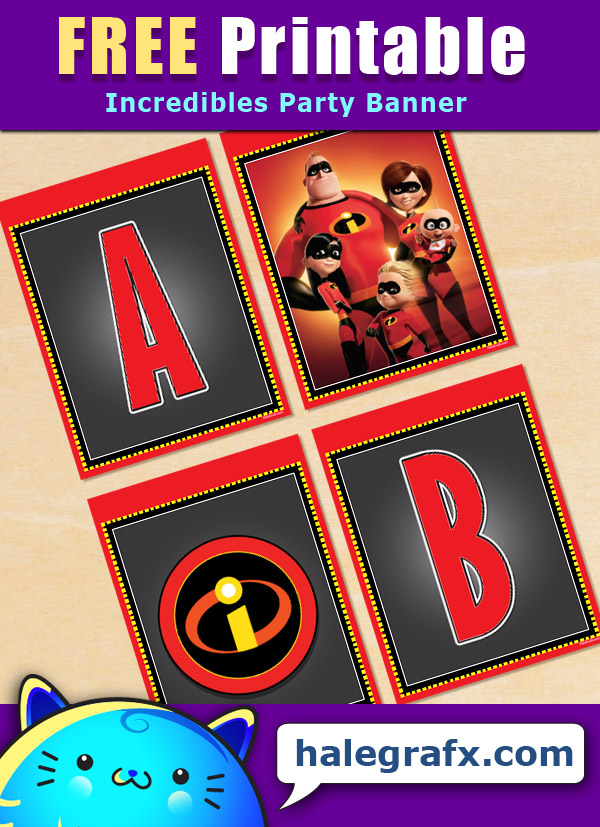 File Size: 2.47 MB
Format: PDF
What paper is best for a Incredibles Banner?
Banners us a lot of paper. Save money and use multipurpose printer paper. It is easy to print and quick to trim. You can save on ink long term if you invest in a laser printer as well. A really great idea if you plan on doing a lot of parties with printables for years to come. Also great for scrapbookers and homeschoolers. I bought one a few years ago and love it.
It's important to note that with using regular printer paper, you may notice that your banner pages curl a bit. If you want to prevent this, try using a high quality paper like cardstock paper. In my opinion regular paper works and looks just fine!
Don't forget Incredibles toys and gifts!
To complement your Incredibles themed party, check out these fun Incredibles toys and gifts! Perfect ideas to give your child at their Incredibles themed birthday party. After grabbing some of these items head to a dollar store and grab some red, yellow and black plates, napkins and streamers to match!