03 Jun 2018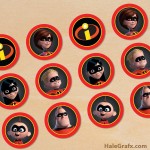 FREE Printable Incredibles Cupcake Toppers
Check out these free printable Incredibles cupcake toppers. They work great for super hero birthdays and Incredibles themed parties!
These cupcake toppers have 6 different Incredibles designs. 5 of the cupcake toppers have the Incredibles family: Mr. Incredible, Elastigirl, Dash, Violet and Jack-Jack. The other is a cupcake topper with the Incredibles logo.
Even  if you already have cupcake toppers, there are lots of other creative uses for these free cupcake toppers.  Just print these on sticker paper and make large Incredibles stickers to go on party favor bags, gifts or use them as decorative table scatter. These FREE Incredibles cupcake toppers print 12 to a sheet in PDF format. The cupcake toppers are designed to be cut with scissors or a 2 inch craft punch and printable on 8.5 x 11 standard letter size paper.
Assemble your Incredibles cupcake toppers with tape or glue and toothpicks. You can download your free printable Incredibles cupcake toppers below.
File Size: 2.13 MB
Format: PDF
What's the best paper for Incredibles cupcake toppers?
Cupcake toppers work fine on an economical choice such as multipurpose printer paper. It is easy to bend and quick to trim. You can save on ink long term if you invest in a laser printer as well. I bought one a few years ago and love it. If you want your Incredibles cupcake toppers to last longer, try using a cardstock paper. Another fun idea is put some glue around the outer blue border then sprinkle on red or gold glitter.
Don't forget Incredibles toys and gifts!
To complement your Incredibles party, check out these fun Incredibles toys and party favors! After grabbing some of these items, grab some matching plates, utensils and napkins. Sticking with solid colors like reds, yellows and black will save you a lot of money. I buy them at my local dollar store to save.