13 Oct 2013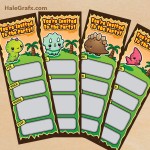 FREE Printable Kawaii Dinosaur Ticket Invitations
Ticket invitations are a really fun way to spread the word about a party. These free printable kawaii dinosaur ticket invitations come with four different dinosaur designs and prints all four to a sheet on standard letter size paper.
PDF Kawaii Dinosaur Printable Ticket Invitations – Easy Type and Print Option!

These dinosaur invites are in PDF format and can be directly printed as-is and then you could fill out your details using a traditional method such as pen or marker.
The PDF also has the convenient option of allowing you to type your details directly into it and then sending to print. You can download your free kawaii dinosaur ticket invitations below!
File Size: 463 KB
Format: PDF