29 Jan 2020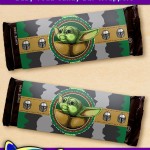 FREE Printable Mandalorian Baby Yoda Candy Bar Wrappers
Hey Mandalorian fans, I created free printable Baby Yoda candy bar wrappers for birthday parties, Star Wars parties and just plain fun! I test fitted these wrappers onto 1.55- 1.75 oz Hershey's bars. Similar size bars will likely work as well.
If you don't want sweets, candy etc., you could use them with granola bars or similar-sized energy bars or even a snack you made at home .These wrappers have Baby Yoda that I created as a speed draw of on youtube. Check the video out if you get a chance and see how I drew this printable. There are also mandalorian helmets I drew as well on these free printables.
These free Baby Yoda wrappers print from a PDF file optimized for 8.5 x 11 inch paper. Printing on normal printer paper works well This free printable is formatted to print two Baby Yoda wrappers to a sheet. Just print, cut and wrap around your favorite bar with a little bit of tape or glue. Put the finished candy bars in party favor bags, wrap snack bars for your guests, or use them on a snack in a lunchbox or picnic! Below you can see an example of how these look on Hershey's bars. You can download your free printable Baby Yoda candy bar wrappers below.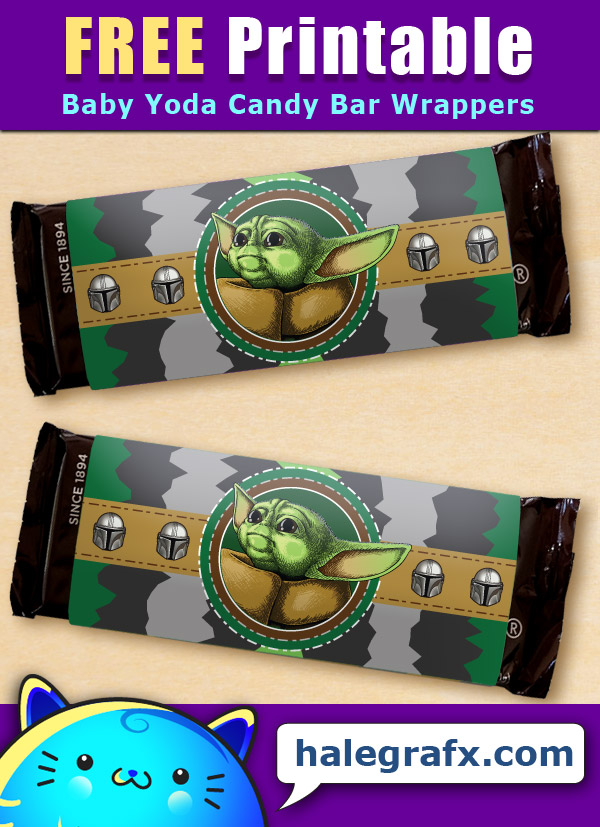 File Size: 1.77 MB
Format: PDF
If you need paper for Baby Yoda wrappers…
Save on printing your Baby Yoda wrappers and many other free Baby Yoda printables from HaleGrafx by getting regular printer paper here.
Check out my Baby Yoda Speed draw on Youtube
Don't forget Baby Yoda toys and Gifts!
To go with your Baby Yoda party, check out these fun Baby Yoda toys and gifts! Don't forget to check your local dollar store for items like plates, cups, napkins, streamers and utensils in colors that match your party. You can save a bundle on your Baby Yoda party that way as well.