10 Feb 2018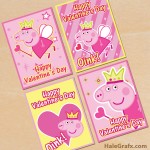 FREE Printable Peppa Pig Valentines
Do you need some cute Valentines for your kids. These are free printable Peppa Pig Valentines for your kids to use.  This free printable  includes 4 different designs. They are decorated with Princess Peppa pig, hearts and bright colors. These Peppa Pig valentines have fun messages such as "Happy Valentines's day" and "oink".
Cut them out and let your kids give them to classmates or cut and paste onto a blank card to give to a friend. Great if you love cute little pigs, cartoon or simply Peppa Pig. These Peppa Pig valentines print at approximately 3.5 x 4.6 inches, 4 to a sheet, in PDF format.
Also great to use these as Peppa Pig labels on Valentine gift boxes or for digital scrapbooking. You can download your free printable Peppa Pig valentines below.
File Size: 301 KB
Format: PDF
What's the best paper for Peppa Pig Valentines?
Printing your free valentines on an economical choice such as multipurpose printer paper, works great! It is easy to cut with scissors, paper cutter or x-acto knife. You can save on ink long term if you invest in a laser printer as well. I bought one a few years ago and love it. If you want your Peppa Pig Valentines to be super strong, try using a cardstock paper.
Don't forget Peppa Pig party supplies!
To complete your Peppa Pig party, check out these fun and Peppa Pig gifts! Also grab some plates, cups, napkins, party favors etc from the dollar store in your favorite Valentines colors.