10 Feb 2017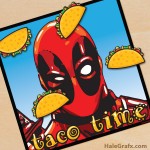 FREE Printable Pin the Tacos on Deadpool
It's time to play some superhero/anti-hero party games. This FREE Deadpool printable has a close-up of Deadpool's Face with a look of confusion to match what is about to happen to him. What's going to happen to him? Your party goers are going to pin tacos to him; trying to get one close to his mouth. The merc with a mouth won't be saying much after your visitors have plastered tacos allover his mouth and head. I know some of you are thinking, what about chimichangas? Well Deadpool really only likes saying the word. Tacos are his preferred staple. This fun party printable comes with two images. Each image is 12 x 12 inches in PDF format and prints in high resolution. You get:
– a large image of Deadpool's face on a square background
– an image containing a set of delicious tacos that he hopes you can get into his mouth/mouth region.
Great for digital scrapbooking, party decorations or your next comic book themed party game.
Recommendations for assembling your Deadpool Pin the taco printable

First download your free printable below. Then glue Deadpool the taco eating Merc to a large foam board to create a larger game area. Then cutout those tasty tacos and stick a piece of tape to the back of each one. You can resize this image to print on 8.5 x 11 if you prefer by using the "scale to fit" or "fit to page" option on your printer. Make sure to take a look in your print settings. Now you can blind fold your party goers and have some fun partying with Deadpool! Download the fun below!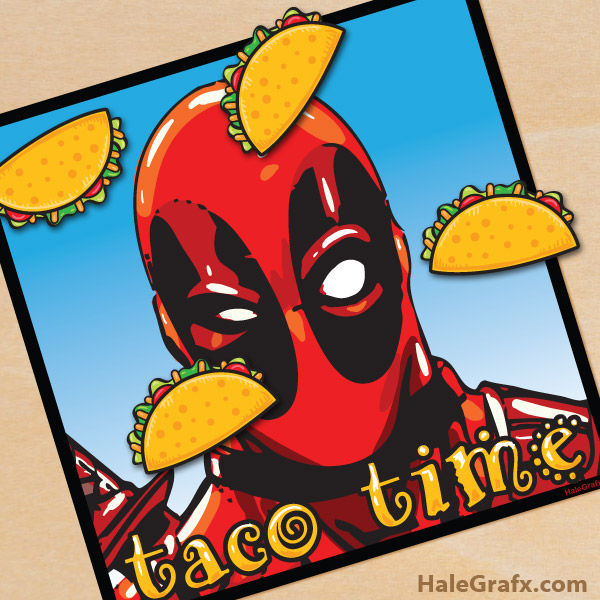 File Size: 542 KB
Format: PDF
More Great Deadpool Items!