22 Aug 2018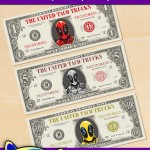 FREE Printable Deadpool Play Money
Are you planning a Deadpool themed party? Here is free printable Deadpool play money. Put the cash in party favor bags,  use it at taco trucks (just kidding), give it to kids to pretend with, or use it in a fun way to teach kids currency.
This DIY free printable Deadpool money is in JPEG format. This download prints 3 different Deadpool dollars amounts, 2 each for a total of 6 to a sheet. This printable is optomized for 8.5 x 11 standard letter size paper. There are 1, 5 and 10 dollar bills. Each bill has deadpool in a different colored outfit. Details on the bills reference Deadpool and his love of tacos.
Each bill has custom serial numbers, symbols and fun references. Kids can use these along with my other printable play money to open their pretend shops and sell fake food, candy and toys. These also work great for a general comic party theme. Just print this freebie out and Make learning currency fun for your children. You can download your free printable Deadpool play money below.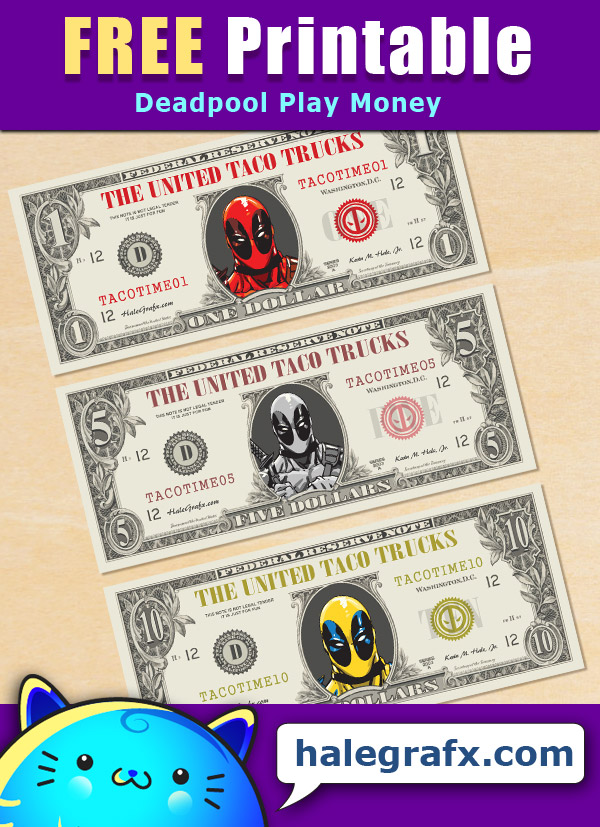 File Size: 1.55 MB
Format: JPG
Grab some Deadpool party supplies & accessories!
To complete your Deadpool party, check out these cool Deadpool figures, that could be used as gifts and/or decorations. If you have a dollar store nearby, head over and grab red and black table cloths, streamers, plates, cups and utensils. A great way to match your party colors while spending little money.