01 Sep 2018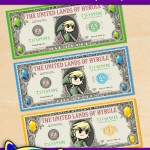 FREE Printable Legend of Zelda Play Money
The Legend of Zelda game series is one of my all time favorite game franchises. For Zelda fans like me, here is free printable Legend of Zelda play money for putting in party favor bags, giving to kids to pretend with, or using to teach kids about money.
This free printable Legend of Zelda money is in JPEG format. The JPEG download prints 6 Legend of Zelda dollars (rupees) on 8.5 x 11 standard letter size paper. There are fun Legend of Zelda oriented details to enjoy on this video game currency. There is the tri-force, Hylian text, Link as president, text in a Zelda font and of course the type of currency.
Each bill is represented by rupee values found in zelda games. The one dollar bill has green rupees which represent a one rupee value. The second type of bill is like a five dollar value with blue rupees because blue rupees equal five green ones. The third type is decorated with yellow rupees with a value of 10 green rupees.
Kids can use these along with my other printable play money to open their pretend shops and sell fake food, candy and toys. These also work great as part of a general video game party theme. Just print these out and let your kids imaginations go wild. Make learning currency fun for your children. You can download your free printable Legend of Zelda play money below.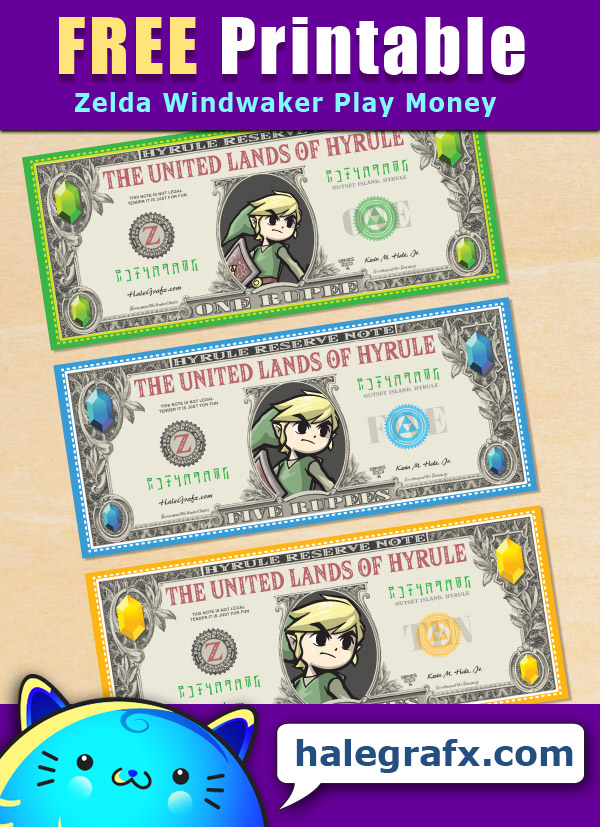 File Size: 1.69 MB
Format: JPG
Grab some Legend of Zelda party supplies & accessories!
To complete your Legend of Zelda. party, check out these fun Legend of Zelda gift ideas. If you want to save even more on your Legend of Zelda party, grab some items from your local dollar store! You could get green plates, utensils, and streamers.